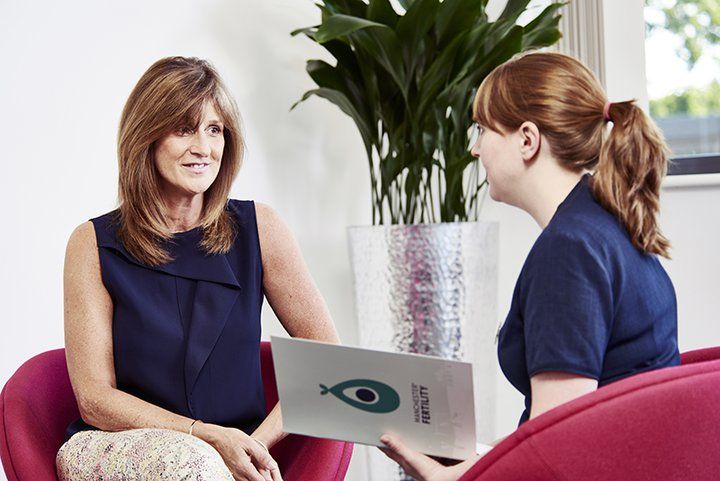 How can we help you have a baby if you're single, and an older woman? Or if you are an older woman and your partner has a sperm disorder? Or you're an older woman in a same-sex relationship? The answer is double donation – using both a sperm and an egg donor to have your family.
At Manchester Fertility, we're one of the few fertility clinics in the UK that can offer both donor eggs and donor sperm.
Using donor eggs and donor sperm in the same treatment cycle is more common than you might think. As IVF success rates using own eggs are lower for older women, you may be advised to use donor eggs instead of your own, and we always recommend the use of donor eggs if you're aged 44 and above.
Stages of treatment include:
Choosing your donors
The first thing to consider is what characteristics you'd like your sperm donor and egg donor to have. Many women like their egg donor to resemble themselves, with their sperm donor more about personal physical and personality preferences, or resembling your male partner if you need a sperm donor because of a sperm disorder.
You can specify any specific traits you'd like your donors to have – from ethnicity and general appearance to hobbies and level of education. Our dedicated Donation Team will support you, matching you with a choice of egg and sperm donors using their unique insight and knowledge of each of our donors.
Counselling
Counselling is a vital and mandatory part of treatment involving the use of donated eggs and sperm. The implications of using both a sperm donor and an egg donor in a single treatment cycle are the same as if you were just using a sperm donor or an egg donor.
As treatment is taking place through a licensed clinic using HFEA-registered donors, neither of your donors has any legal, moral or financial liability towards any child you have - they are not the legal parents. As your donors are fully identifiable, your child can find out who their donors are when they turn 18, if they wish to.
Your counsellor will discuss all of these rights and more with you, to ensure you fully understand your rights as the recipient of donor eggs and sperm, what it means for you, your child and your partner (if you have one), and what rights your donors have to find out if your treatment has been successful. So you can proceed with treatment with confidence and reassurance, for yourself and the child you're hoping to have.
Treatment cycle planning
Using an egg donor and a sperm donor requires careful cycle planning and synchronisation. Your donor eggs and donor sperm must are ready at exactly the right time in your treatment cycle, so embryos are ready to be transferred when scans indicate your uterine lining has grown in response to the fertility medications you'll take.
Eggs from your chosen donor will be fertilised with donor sperm, embryos are then monitored in our Laboratory as they develop, in either our standard incubators or state-of-the-art EmbryoScopes if you have opted to include this technology in your cycle.
The embryos with the highest potential for pregnancy are selected for transfer, with embryos dipped into special EmbryoGlue to help them stick to your uterus and implant. If you have any remaining good quality embryos, these can be frozen for use in future cycles.
Get started today
We have no waiting list for consultations with our fertility specialists, so if you're interested in a double donation using both a sperm and egg donor to have a baby, make an appointment on 0161 300 2737 or apply online.
Last updated: 16th April 2021