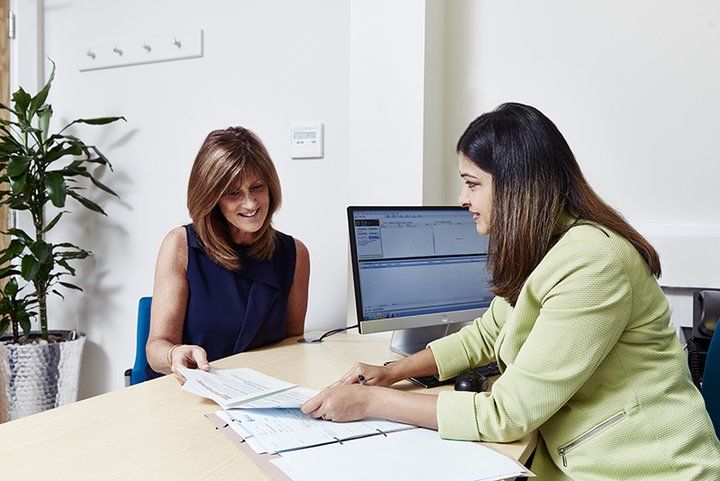 Did you know that at Manchester Fertility we can help you have a baby even if you're a much older mum-to-be?
We specialise in helping older women right up to the age of 50 to have a family through IVF and the use of donor eggs, which we especially recommended if you're aged 44 and upwards. Over a third of women aged 43 and above achieve pregnancy with us when using donor eggs.
But we don't just offer you identifiable UK egg donors and quality donor eggs to maximise your chances of pregnancy at Manchester Fertility. We ensure you're completely prepared to have your baby physically and psychologically too, to help support you with any health or wellbeing challenges you may face as an older pregnant woman:
Dietary and nutrition advice for older mums
We can help you to nurture and prepare your body for pregnancy with expert personalised fertility dietary and nutrition advice from our fertility nutritionist Jeannette Jackson, specifically tailored to not only meet your health and nutrition needs as an older woman but to give your body the nutrients it needs to support a pregnancy at this time of your life.
Holistic therapy and counselling
We also support you psychologically too, both through holistic therapy and counselling. Through our specialist practitioner Dr Greg Carter, we offer acupuncture for fertility, to ensure your IVF with donor eggs cycle is as relaxed and stress-free as it can be for you.
You're also offered counselling. All women who need an egg donor to conceive are counselled by our expert team on the implications of using donor eggs, not just for yourself and your family but for any child that's born, so you can have your treatment with confidence in what the future holds for you and your baby. We'll explain your rights, and the rights of your child to find out who their egg donor is, and also how to explain to your child they are donor-conceived when the time is right.
Preparing your body for embryos
The most important part of your treatment cycle is preparing your body to accept embryos, created using the eggs of your donor and either partner sperm or donor sperm from our national sperm donor bank if you're a single older woman.
To do this, we use a tailored dose of fertility medication at the lowest dose possible for you, to gently get your body ready for pregnancy. This phase of your treatment is crucial to maximise your chances of success. It's not just about us providing quality UK donor eggs and embryos, but ensuring your body is ready to accept them at the right time.
At Manchester Fertility we only arrange your embryo transfer date when your endometrium lining is optimum for embryo implantation, as it would be in natural conception.
Early pregnancy support for older mums
Two weeks after your embryo transfer you'll be able to take a pregnancy test and if positive, you'll be supported during these important early stages by our fertility support midwife Lynsey Moorhead. She will provide you with tailored care and advice specifically for older mums, arrange your very first pregnancy scan and ensure a seamless transfer of your care to local NHS maternity services.
Choosing your egg donor at Manchester Fertility
As one of the UK's most successful egg donor banks, we can offer you an extensive choice of UK-based, traceable egg donors and fresh or frozen donor eggs with no waiting list.
All our egg donors complete detailed donor profiles, including goodwill messages, to help you choose the right donor for you. You'll be supported by our dedicated Donation Team in your choice who get to know our egg donors individually. Our egg donors are all aged 18 to 35 years old to maximise egg quality and donate only to us.
Funding Donor Eggs IVF
We can also help reassure you financially with the option of a money-back guarantee if you don't have a baby with us. The Donor Eggs IVF Refund plan, offered by independent pre-paid provider Access Fertility, is available to women aged up to 48 using donor eggs. It gives you up to three cycles of IVF treatment at a discounted rate, six donor eggs per cycle and a refund of up to 70% of plan fees if you don't have a live birth after all included cycles and embryo transfers are completed.
Or you can opt to have IVF with Donor Eggs with us through a traditional fee setup, where you'll be given a fully-costed, transparently-priced treatment plan. The choice of how to fund your treatment is entirely yours, and does not influence your treatment recommendation and pathway in any way.
Starting IVF with donor eggs in Cheshire and Manchester
Using donor eggs to have a baby is a very personal and individual decision, so come and see one of our Donor Programme Assistants on a one to one basis. These free, no obligation appointments are an ideal way for you to find out more and ask any questions you have about treatment with donor eggs, in private and in confidence. Request your appointment here or call 0161 300 2737.
You can also come and meet our team at the Fertility Show Manchester (25-26 March). Book your tickets here.
Last updated: 3rd March 2017