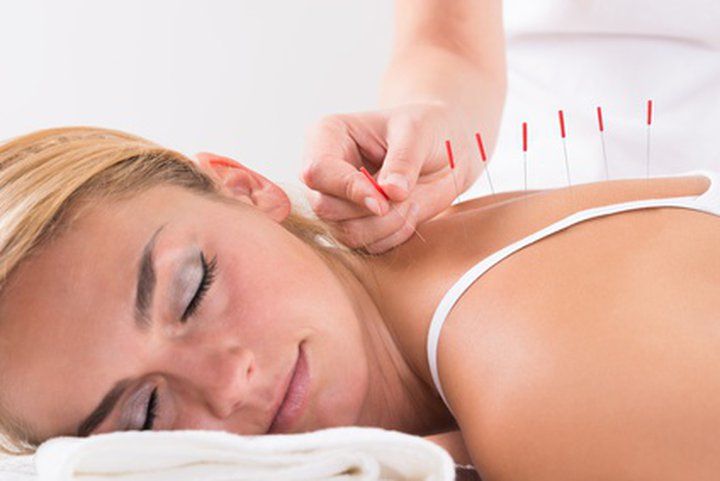 Could holistic therapy benefit you during your fertility treatment? At Manchester Fertility we combine tailored scientific fertility solutions with natural therapies, focusing not only on your successful outcome but your health and wellbeing throughout your journey to pregnancy.
As our patient you can choose to have private acupuncture for IVF and fertility to complement your recommended treatment plan, with our medical acupuncturist Dr Greg Carter.
A qualified GP, Greg became interested in acupuncture whilst at medical school, and has been performing medical acupuncture – in addition to working as a GP in Cheshire - for over 20 years, specialising in fertility, gynaecology and pregnancy.
As a GP, Greg understands not only the medications, processes and procedures involved in IVF and fertility treatment, but also the physical and psychological challenges patients face when dealing with infertility, and all the stress and uncertainty it can bring.
To mark this week's Acupuncture Awareness Week (6-12 March) by the British Acupuncture Council, Greg answers FAQs about the practise, his expertise and acupuncture advantages for those going through fertility treatment, so you can explore whether it's right for you:
Why have acupuncture for IVF & fertility treatment?
Acupuncture is a safe and effective complementary therapy for a variety of fertility and hormonal conditions such as Polycystic Ovarian Syndrome (PCOS), helping not only with the physiological aspects of infertility but also stress management and relaxation.
What does acupuncture for IVF involve?
Although it has its roots in Chinese medicine, Western Medical Acupuncture is different as it involves an understanding of physiology, anatomy, illness and health. It is a painless process that involves the use of carefully placed, very fine needles to achieve therapeutic effects. For fertility issues, the needles would be placed in specific points to target the reproductive organs including the uterus and ovaries.
When might I need acupuncture?
You may consider acupuncture to be helpful for a variety of reasons:
If you're thinking about trying for a baby and are concerned about irregular periods, PCOS, or previous pregnancy problems or miscarriages 
If you've been trying to conceive for a while without success 
To help with ongoing fertility treatment 
If your embryo transfer is coming up and you'd like complementary therapy to try to help the chances of successful implantation
How does acupuncture help with female fertility and IVF?
For the IVF process, research has shown that acupuncture may be beneficial on the day of embryo transfer; whilst The British Acupuncture Council's research fact sheets show that for female fertility, acupuncture may also help by:
Regulating fertility hormones: Acupuncture has been shown to affect hormone levels by promoting the release of beta-endorphin in the brain, which affects the release of gonadotropin releasing hormone by the hypothalamus, follicle stimulating hormone from the pituitary gland, and oestrogen and progesterone levels from the ovary.
Increasing blood flow to the reproductive organs: Stress stimulates the sympathetic nervous system, which causes constriction of ovarian arteries. Acupuncture inhibits this sympathetic activity, improving blood flow to the ovaries, enhancing the environment in which ovarian follicles develop. It also increases blood flow to the uterus, improving the thickness of the endometrial lining and increasing the chances of embryo implantation.
Counteracting the effects of Polycystic Ovarian Syndrome (PCOS):PCOS is one of the most common causes of female infertility. By reducing sympathetic nerve activity and balancing hormone levels, acupuncture has been shown to reduce the number of ovarian cysts, stimulate ovulation, enhance blastocyst implantation and regulate the menstrual cycle in women with PCOS.
It's important to note that whilst there are many small-scale randomised clinical trials on acupuncture, large-scale robust trials are lacking. Different people respond to acupuncture in different ways. Some people get great benefit, others less. Some people notice more side effects – such as relaxation or drowsiness.
On an individual basis, acupuncture is popular with many IVF patients, who feel it helps them both emotionally and physically, with many fertility clinics now recognising the value it brings to the patient journey.
How many acupuncture sessions would I need?
In general the further ahead in a treatment journey a patient starts acupuncture, the more it can help. Acupuncture is a cumulative therapy, with each new treatment building on the last. For many problems, including fertility, it can take a few treatments before we see any results. For embryo transfer for example, it is of more benefit if a course of acupuncture is performed in the time leading to the transfer day and post-transfer, rather than a one-off treatment.
What happens at my first acupuncture appointment?
We'll review your medical history, diagnosis and explore how acupuncture may be able to help you. We'll explore how many treatments may be needed, how soon we can expect to see results and how acupuncture may make you feel. We'll also look at how the needles are used, so you know what to expect.
Book Acupuncture for IVF in Cheshire
If you'd like to see Dr Greg Carter as part of your treatment journey at Manchester Fertility, you can choose from his clinics at Prestbury or Macclesfield. You can book directly online herewith no need for a referral.
Last updated: 20th January 2020