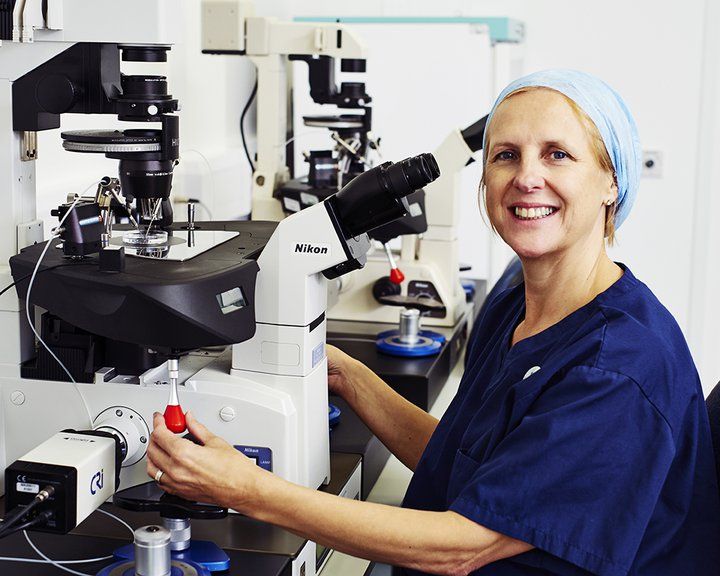 Who will you see at Manchester Fertility when you have treatment with donor eggs?
Creating a family using donor eggs involves a wide clinical team, bringing together the specialist skill and expertise of our consultants, nurses, laboratory staff and more to help you have your baby.
The extensive support network across our clinic ensures your treatment is a seamless and stress-free experience, leaving you free to focus on choosing your egg donor and preparing for your new family. We have no waiting list for UK donor eggs at Manchester Fertility through our own Manchester Donors egg donor programme, so you can start treatment with us straight away.
Here's an overview of some of the clinic team involved during a typical cycle, so you know who's going to be taking care of you when you come to us for treatment with donor eggs:
Donation Team
Our Donation Team supports all our patients who need to use donor eggs throughout the entire treatment journey. They co-ordinate your screening and treatment appointments, and help and support you when it comes to choosing your egg donor.
Our Donation Team get to know all of our egg donors well, and will match your requirements to any suitable egg donors we have. They're here to answer any questions, including information about funding treatment with donor eggs through the Donor Eggs IVF Refund package for women aged up to 48, which gives you up to three cycles of treatment with the reassurance of a money-back guarantee.
Fertility Consultants
Your fertility consultant is responsible for planning all aspects of your treatment, to give you the highest chance of pregnancy using donor eggs. We're highly experienced and successful in helping people to have families using donor eggs, through tailored, bespoke treatments unique to each of our patients. To plan the most effective treatment for you, your fertility consultant will go through your medical history, including any previous cycles of fertility treatment you may have had, arranging further tests if necessary.
Your consultant will also explain the different donor egg options we have – you have the choice of fresh or frozen donor eggs with us – and the benefits of each. You'll always be informed about the treatment process clearly and simply, so you know what to expect and what's going to happen next, and can ask questions at anytime.
Your fertility consultant is also responsible for transferring suitable embryos during the treatment process, using guided ultrasound in our clinic theatre.
Counsellors
Our counsellors are some of the most important and valued people you will meet on your treatment with donor eggs journey. Using donor eggs to have a baby carries many different emotional issues and implications for both partners. Our counsellors will discuss all the different aspects of using donor eggs with you, so you feel confident and happy in your treatment decision and can look forward to the future with your new family. Counselling sessions are included as part of your treatment cycle, for both you and your partner.
Fertility Nurses
Our fertility nurses sort all the medical side of treatment with donor eggs, which include using fertility medication to prepare your body to receive an embryo. Post embryo transfer, they'll take care of you on our private ward and explain to you what happens next, including when you can take a pregnancy test. They'll also support your partner when he provides his semen sample to fertilise the donor eggs.
Laboratory team
Our laboratory team fertilises your chosen donor's eggs with your partner's sperm, or donor sperm, monitoring embryo development. Using their considerable skills and technologies including time-lapse EmbryoScope incubators, they expertly identify which of your embryos have the highest potential for pregnancy. All embryos selected for transfer are dipped into EmbryoGlue just prior to transfer. It's a special solution we use that helps the embryo to adhere to the uterus to encourage implantation and pregnancy.
Fertility support midwife
Our fertility support midwife is here to support you whilst you wait to take a pregnancy test. If your treatment with donor eggs is successful, our midwife arranges your first pregnancy scan at our clinic to confirm your pregnancy at 6-7 weeks, giving you early pregnancy advice and help. She also arranges the transition of your pregnancy care going forward to local NHS maternity services.
Treatment with donor eggs in Cheshire and Manchester
We offer treatment with donor eggs to women up to the age of 50 at our private Cheshire IVF clinic.
Call 0161 300 2737 or book a free one to one with one of our Donation Team to get started. It's an informal, no obligation non-medical appointment where you can ask any questions you have in private.
Last updated: 27th September 2019