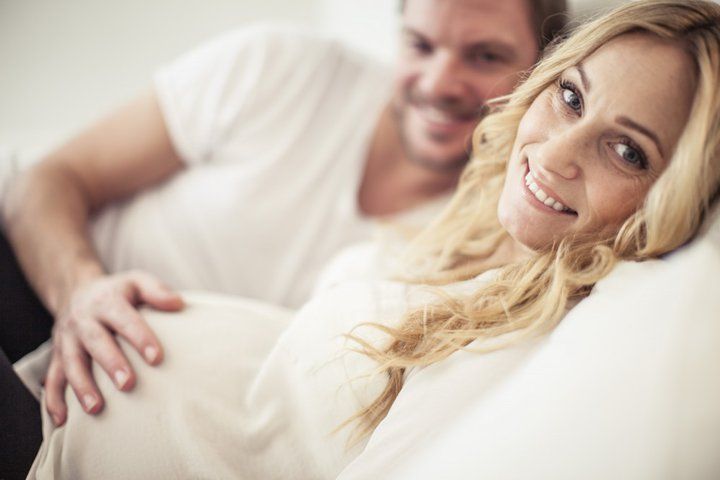 What really happens when you get pregnant using donor eggs? Although IVF treatment with donor eggs needs careful and considered planning, the treatment process itself is not that much different from a conventional IVF cycle when your own eggs would be used. It still involves using fertility medications, egg fertilisation and embryo transfer.
The first thing to decide is whether you wish to try for pregnancy using frozen or fresh donor eggs. This is the biggest factor that dictates your treatment process. At Manchester Fertility we have no waiting list for either type of donor eggs and can give you a choice of identifiable and traceable UK egg donors that meet your requirements.
Frozen or fresh donor eggs – which to choose for your treatment?
Fresh donor eggs are fertilised as soon as they're collected from your egg donor, but because of this her egg retrieval cycle has to be synchronised to your treatment cycle. This can mean a slight delay in treatment starting.
Frozen donor eggs are already in our egg donor bank, which means you can start treatment immediately. Modern freezing methods mean that frozen donor eggs are just as viable for pregnancy as fresh donor eggs. At Manchester Fertility, our 'fast-freeze' technique results in high survival rates for our frozen donor eggs.
Preparing your body for an embryo
Whichever type of donor eggs you choose, one of the most important steps in treatment is to prepare your body to accept the resulting embryo. We do this using tailored doses of fertility medications. They are the same type as you would take for conventional IVF, but are designed to prepare your endometrial lining so that the embryo can implant successfully.
What happens with the donor eggs?
Your donor eggs will be fertilised using a technique called ICSI – Intracytoplasmic Sperm Injection. This is where each egg is injected with sperm from your partner, or donor sperm, for which we also have no waiting list.
We then monitor the eggs for signs of fertilisation. You can choose to place your embryos in our EmbryoScope time-lapse incubators, or have traditional culture incubators. If your embryos are suitable, they will be developed to an advanced Blastocyst stage before transfer at no additional cost.
What happens during an embryo transfer?
We identify when your endometrial lining is optimum for embryo transfer using scans. Prior to transfer, the best quality embryo will be dipped into a solution called EmbryoGlue, an advanced IVF product that we include in your cycle at no cost to you. EmbryoGlue helps the embryo to adhere to your uterus after transfer, helping implantation. After transfer, you'll be given further fertility medication to support your body in early pregnancy.
Any good quality embryos you have remaining will be frozen in our state-of-the-art laboratory, so you can use them in future cycles via a Frozen Embryo Transfer.
When do I take a pregnancy test?
Just like in traditional IVF, you'll be able to take a pregnancy test around two weeks later. During this wait, our Fertility Support Midwife Lynsey Moorhead is here to reassure you. All Manchester Fertility patients receive continuous professional care right up to early pregnancy for a complete treatment journey.
If your test is positive, you'll see Lynsey for early pregnancy advice and guidance. She'll arrange your very first pregnancy scan at our clinic, at 6-7 weeks pregnancy. If all looks well, your care will be seamlessly transferred to local NHS services.
If your pregnancy test is negative, you'll be booked in for a review with your fertility consultant. All cycles that don't result in pregnancy are thoroughly reviewed by our consultant team before any further treatment is progressed. You'll be able to try for pregnancy again using remaining embryos from your previous cycle.
How can I pay for my treatment with donor eggs?
At Manchester Fertility you have the choice of funding treatment with donor eggs as you go along – with the reassurance of transparent and up-front prices – or through a pre-paid plan that gives you a money-back guarantee.
Under Access Fertility's IVF Refund Programme for Donor Eggs Recipients,
you receive up to three cycles of IVF, with a guaranteed six donor eggs per cycle. If you don't have a live birth after all included cycles and embryo transfers are completed, you receive a refund of 70% of your plan fees back. Access Fertility's IVF Refund Programme for Donor Eggs Recipients is available to women aged up to 48.
All our fertility treatments are available to women up to the age of 50.
Treatment with donor eggs in the UK
We don't just help women from Manchester, Cheshire and Liverpool to have families with the help of our egg donors. We also welcome patients from across the North including Staffordshire, Lancashire, Yorkshire and right across the UK.
If you're travelling considerable distance, we'll streamline your treatment process as much as we can to make your journey to pregnancy as convenient and stress-free as we can, including online Zoom consultations and counselling.
Speak to our dedicated clinic team to begin your treatment with donor eggs on 0161 300 2737 or self-refer and we'll be in touch.
Last updated: 17th August 2020