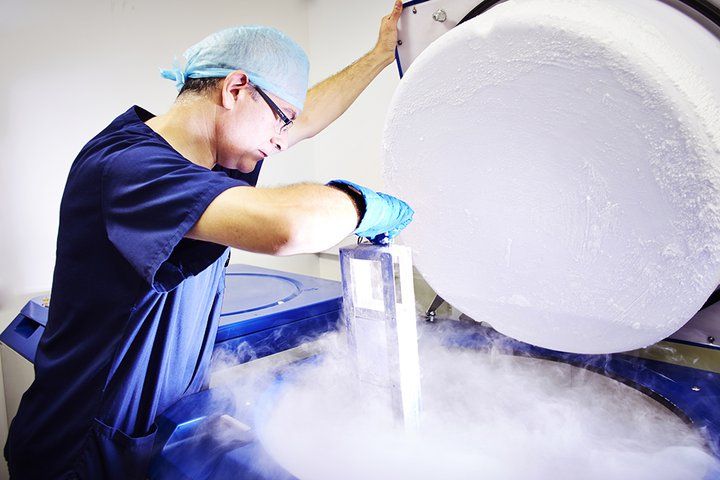 Did you know that you can choose to have IVF with donor eggs using donor eggs from our frozen egg bank?
It's one of the most cost-effective ways to have this treatment, but does using a frozen egg affect your chances of success?
In the fourth blog in our week-long series all about treatments using donor eggs, we discuss IVF using frozen eggs compared to a fresh cycle:
Frozen vs fresh cycle: What's the difference?
In a fresh IVF with donor eggs cycle, the donor's donation process is synchronised with your own treatment cycle. This is so her eggs are ready to be collected and fertilised (by your partner's sperm or sperm from one of our donors) at the right time to then be transferred to you. It takes careful timing of cycles and preparation of both you and your donor.
In a frozen IVF with donor eggs cycle, the eggs are ready for when you are. The eggs are thawed at the right time in your cycle ready to be fertilised. 
Advantages of a frozen IVF with donor eggs cycle
Using frozen donor eggs does have its advantages compared to a fresh cycle. With frozen eggs, the donor has already completed her donation cycle. You are not relying on her response to stimulation and worrying about how many eggs will be available to you. Timescales of treatment are also shorter, as there is no need to synchronise with the donor, and treatment is typically cheaper.
Success rates using frozen eggs
Success rates using frozen eggs are affected by many different factors. These include the number of eggs collected from your donor, the quality of those eggs and how many survive the freeze/thaw process. 
Freezing technique matters
The freezing process for our donor eggs is one of the most important aspects of IVF treatment using frozen donor eggs. Advances have been made over the last few years which means that treatment using frozen eggs is now considered a viable option. 
At Manchester Fertility we use the very latest technique called 'vitrification' to freeze donated eggs. This fast-freeze method helps to reduce the formation of ice crystals in the egg, ensuring high survival rates for frozen eggs.
Additional help
The ability of the clinic to successfully freeze and then thaw eggs is one factor to bear in mind, but also consider any additional techniques that could help increase the success of your frozen IVF with donor eggs cycle. At Manchester Fertility you can have pre-cycle Endometrial Scratching treatment. You can choose to place your created embryos into our time-lapse EmbryoScope, a state-of-the-art incubator, which monitors every crucial stage of the growth and development of your embryos. Only those embryos which have achieved all the necessary growth stages are selected for transfer. We also 'dip' all embryos into special EmbryoGlue prior to transfer, to help them 'stick' to your uterus, a free of charge treatment used for all embryo transfers. 
If you're interested in IVF with donor eggs, call our Patient Advisors to find out more about donor availability and treatment process. Call 0161 300 2737 or use our discreet Live Chat service available during clinic hours via our Homepage. 
Last updated: 3rd December 2015