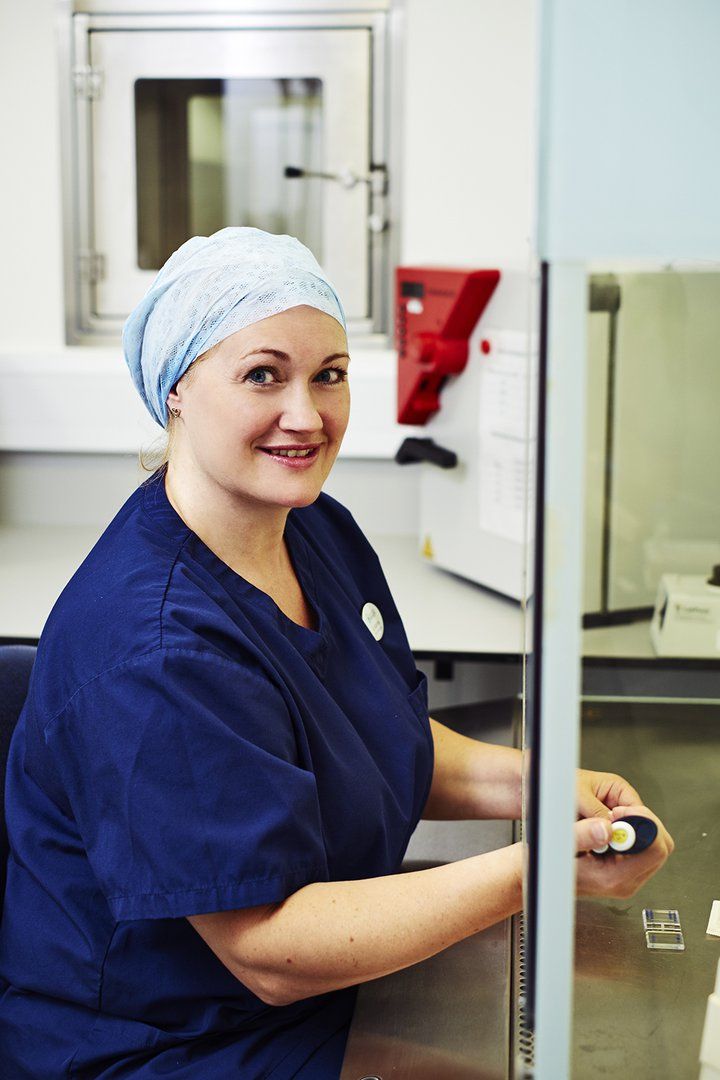 If you're researching private IVF clinics, there will be differences between each that you'll notice, from how each clinic operates and the expertise of their team to their fee structure, transparency of results and attitude to your care.
Manchester Fertility was one of the very first private IVF clinics to open in the UK in 1986, when IVF treatment was still in its infancy.
Our 30 years of expertise at the forefront of infertility treatment and all its scientific breakthroughs has given us unique insight and knowledge into not only how to overcome your fertility issues, but how to make your treatment journey the best it can possibly be.
When you come to us for help to have a baby, you'll find that in many aspects of your care, we go further than most other clinics:
Innovations
We research and invest in the latest, scientifically proven techniques and technologies, including Time-Lapse EmbryoScope incubators. These special incubators not only give our team highly-detailed information about embryo development for embryo selection, but also provide you with your own video copy on USB of the very start of your baby's life, including the transfer. Other innovations we offer to help increase your chances of success include SpermComet DNA damage testing and Endometrial or 'womb' Scratching.
Free extra help to improve your chances of success
We include additional techniques in your treatment cycle for free. All embryos selected for transfer are dipped into a special solution, EmbryoGlue, which helps the embryo to 'stick' to your uterus. If you have embryos suitable for Blastocyst transfer, when your embryos are developed to the next cell-stage in our laboratory, this is carried out at no cost to you.
Preparing you for infertility treatment
We don't just provide you with infertility treatment; we help you prepare for your journey both emotionally and physically. Our patient services include expert, tailored diet and nutrition support if you need to improve your health, lifestyle or BMI before you start your treatment to maximise your chances of success; holistic acupuncture treatment for your wellbeing and professional fertility counselling for both you and your partner, which you can access at any time.
Dedicated Donation Team
If you need donor sperm or donor eggs to have a baby, our dedicated Donation Team provides specialist additional help to you and your partner. From matching you with a choice of sperm or egg donors to managing the treatment process and arranging counselling for you both, our Donation Team is highly-experienced in ensuring you're supported and taken care of at every stage of this very special treatment.
Aftercare – specialist midwifery support
Your care under our team continues way beyond embryo transfer. Did you know we have our own specialist fertility midwife to support you whilst you wait to take your pregnancy test? Lynsey Moorhead not only helps to reassure you during the 'two-week' wait, she also looks after you at your confirmation pregnancy scan and ensures a seamless transition of your care to your local midwife or GP following successful treatment.
We also offer the very latest, non-invasive Harmony prenatal test, a simple, yet highly accurate blood test from 10 weeks of pregnancy that checks for chromosome abnormalities.
Success Rates
Manchester Fertility's consistent pregnancy rates across all age groups and diagnosis make us one of the most successful fertility clinics not just in Manchester and Cheshire, but in the UK. We're highly-skilled in helping people in all circumstances to become parents – from couples with a diagnosed fertility problem to older women with age-related infertility who need donor eggs and same-sex couples and single women who need donor sperm. Our success rates relate to confirmed, clinical pregnancies only, when a foetal heartbeat is detected at around seven weeks.
If you'd like to discover for yourself what sets Manchester Fertility apart, why not book in for a free, no obligation one-to-one with our friendly Patient Advisors? Just call 0161 300 2737 for a convenient appointment.
Last updated: 18th December 2020