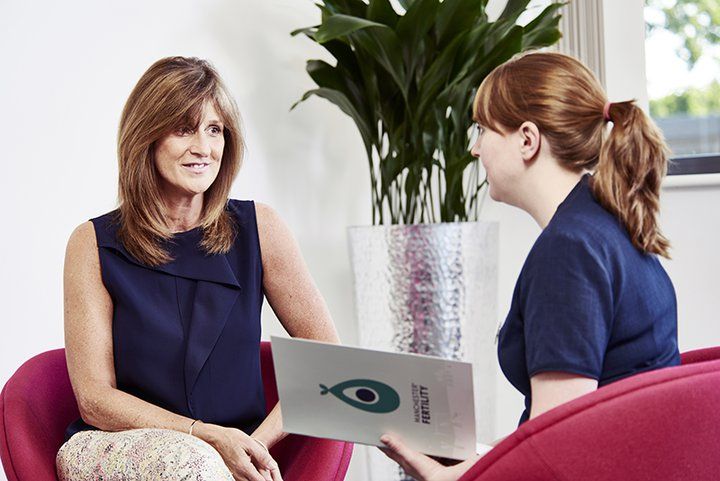 Do you need donor eggs to have a baby but are worried about the cost of private IVF with donor eggs?
As one of the UK's leading clinics for treatment using donor eggs, we not only give you a choice of egg donors with no waiting list, but also transparent, fixed-fee packages to make having a baby using donor eggs as accessible and cost-effective as possible:
Choosing your IVF with donor eggs package
The first step is to decide which of our packages suit you. We offer three, tiered-price package options for IVF with donor eggs. If you want the reassurance of a refund, you can also choose Access Fertility's Donor Egg IVF Refund plan:
Exclusive fresh cycle: Choosing an exclusive donor means you receive all the eggs collected from the donor for your treatment. You are guaranteed a minimum of six eggs.
Shared fresh cycle: Eggs collected from the egg donor are shared between you and another patient or the donor herself, if she is egg-sharing. You are guaranteed a minimum of four eggs to use for your own IVF cycle.
Frozen 'egg bank' cycle:This treatment involves using donated eggs that have been frozen in our egg bank. Four donor eggs are thawed and fertilised via ICSI with your partner's sperm or donor sperm. You will get at least one good quality embryo.
Access Fertility Donor Egg IVF Refund plan:Access Fertility's pre-paid treatment plan gives you up to three cycles of IVF/ICSI using eggs from our exclusive donors at a discounted rate, with a minimum of four eggs per cycle. Available to patients aged up to 48 subject to a medical review, you receive a refund of up to 70% of plan fees if you do not achieve a live birth at the end of all completed cycles and associated embryo transfers.
Choosing your donor
All Manchester Fertility egg donors are healthy, fertile women aged between 18 and 35, who have passed the strict medical and screening criteria to be HFEA-registered egg donors.
Once you have decided which package is right for you, you're given a choice of appropriate egg donors who each meet as closely as possible any requirements you have – such as hair and eye colour, height or ethnicity.
At Manchester Fertility our aim is to make egg donor selection as informed as possible, which is why our egg donor profiles go beyond just basic details. All of our egg donors complete their own profiles, including pen portraits to give you a good idea of the type of person they are, and personal goodwill messages to you and any child you have.
Our success rates using donor eggs
We have strong and consistent success rates for our patients who use donor eggs to have a baby, thanks to the advanced techniques and treatments we use.
Our latest results for IVF with donor eggs (Jan to Dec 2015) show that 39% of women aged 40-42 and 33% of women aged 43 and above who used donor eggs in a fresh cycle achieved pregnancy with us.
Supporting you through Donor Egg IVF
Our dedicated Donation Team are on hand to support you at every stage. We understand the personal and sensitive nature of treatment with donor eggs, and so our team are here to give you insight and reassurance, including when you're ready to make the crucial decision about which of our egg donors may be right for you.
You're also supported by our counselling team, who will explain to you all the implications of using donor eggs to have a family, including your rights, the rights of your donor and any child you have. You can find out more about our personal support here.
If you'd like to have IVF with donor eggs with us, it's easy to get started. Call our dedicated Donation Team on 0161 300 2737 or book in for a private, free one-to-one with our team. 
Last updated: 20th January 2020