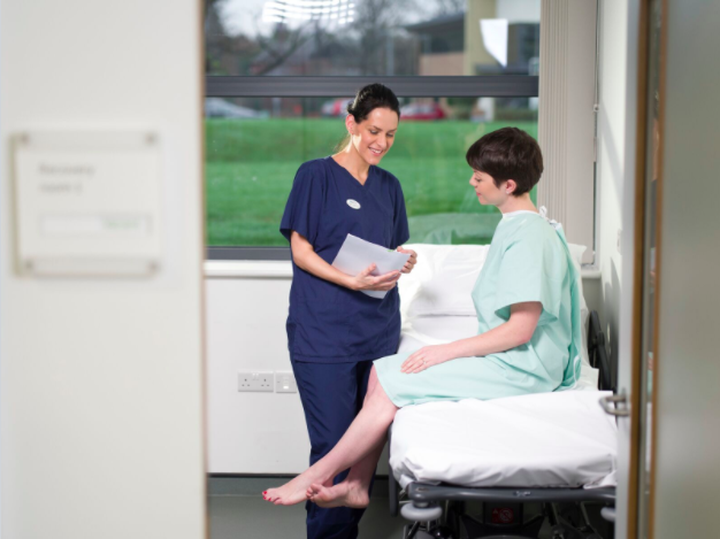 If you're planning to conceive through donor sperm insemination, do you know how to get started?
Whether you're a same-sex couple, single woman or a couple who need donor sperm because of male fertility issues, we can help you achieve pregnancy at Manchester Fertility using sperm from our UK-based, identifiable and traceable sperm donors.
We have no waiting list for treatment with donor sperm, so you can start planning your family straight away. You'll be supported by a caring team that has extensive experience in helping people to conceive using donor sperm.
Here's a quick overview of a typical donor sperm insemination treatment cycle so you know what to expect. Every patient's journey is individual and tailored, to ensure the best possible outcome:
Initial consultation & screening tests
You'll see one of our experienced fertility consultants who will explain how donor sperm insemination works and arrange for screening and pre-treatment tests. These tests are just to ensure you're healthy and that there are no issues that could prevent conception through donor sperm insemination, such as blocked fallopian tubes or scarring.
We'll also outline the extra support available to you, including fertility diet and nutrition preparation with our expert nutritionist, and fertility acupuncture if you wish to complement your treatment with holistic therapy.
Planning your treatment: Natural cycle or stimulated
Your initial tests will indicate whether your cycle should be carried out as a natural cycle or stimulated. Most cycles of donor sperm insemination are carried out when you naturally ovulate. But if your tests indicate an ovulatory issue, or you have irregular or infrequent periods, low doses of fertility drugs can be used.
Choosing your sperm donor
You'll be given a choice of UK-based sperm donors that meet any requirements you have, from our Semovo donor sperm bank. All Semovo sperm donors are health-screened to strict HFEA standards, are fully identifiable to your child in future and complete detailed personal profiles to help you choose, including personal goodwill messages.
Counselling
Counselling is a mandatory and valued part of treatment with donor sperm. Our counsellors will discuss with you the implications of using donor sperm to have a baby, that affect not just you but your child - including the rights of your child to find out who their sperm donor is when they reach 18, if they wish to know. It's so we can ensure you're fully prepared and informed, so you can have your family with confidence.
Donor sperm insemination process
If you are having natural cycle insemination, treatment is precisely timed for when you're ovulating. We'll be able to identify your fertile window; you then come into the clinic to be inseminated with sperm from your chosen donor that has been carefully prepared by our laboratory team. It's a painless procedure, carried out by a fertility consultant. You'll be looked after and reassured throughout your time in theatre.
If you're having a stimulated cycle, tailored doses of fertility drugs are used to stimulate ovulation. We'll monitor you to pinpoint the right time for insemination, when there's a mature egg to fertilise.
Taking a pregnancy test
After insemination there's nothing special you need to do, you'll be taken to our private ward for a period of rest where our fertility nurses will explain next steps and when you can take a pregnancy test. We understand that waiting to take your test can be tense time, but we're here to help. Our clinic team – including our Fertility Support Midwife - is here to support you if you have any worries or concerns.
Early pregnancy support
If your pregnancy test is positive, our Fertility Support Midwife arranges your first ultrasound scan. This happens at our clinic at around 6-7 weeks of pregnancy. We check for foetal heartbeat and that the pregnancy is progressing as it should. If all looks well, you'll be given early pregnancy advice and your care will be seamlessly transferred to your local NHS pregnancy service.
Growing your family: Using the same sperm donor
Following successful treatment, you may be able to reserve sperm from the same sperm donor, so you have the option to grow your family in future and have biologically related children.
Donor Sperm Insemination multicycle package
It's important to remember that as donor sperm insemination closely mimics natural conception, it may take a few cycles of insemination to achieve pregnancy, just as it would if you were trying for a baby naturally.
Because of this, we created our own dedicated donor sperm insemination package for our patients, which gives you up to three cycles of donor sperm insemination at a fixed, discounted rate. Or you can choose to fund your treatment traditionally as you go along.
Donor sperm insemination in the North West: Get started
Speak to our Patient Advisors on 0161 300 2737 to start your fertility treatment with donor sperm. Or you can self-refer here, and we'll make you your first appointment.
Last updated: 20th January 2020