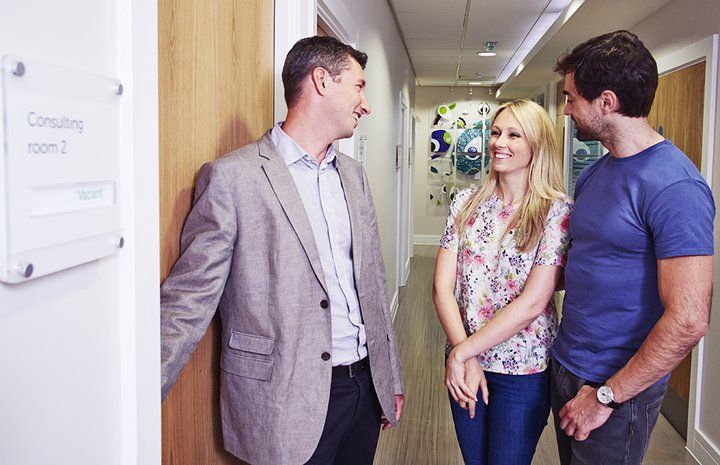 If you're getting ready to see one of our fertility doctors for the first time you can relax – it's nothing to be nervous about.
Helping patients to become parents is what we do best, and at your first consultation you'll find out how we're going to help you on your fertility journey. Here's what typically happens during the appointment – and afterwards - so you know what to expect:
A friendly fertility consultant welcome – online, phone or face-to-face
Our fertility doctors may each have their own fertility specialisms but they all share the same friendly approach, compassion and confidence when it comes to achieving your family.
We've helped people in all circumstances to become parents, so you can feel at ease no matter which of our doctors you see or how you see them, with a choice of an online Zoom, telephone or face-to-face consultation for your convenience.
No examinations or tests
Your first appointment with a fertility consultant doesn't involve any examinations or tests. All the necessary initial fertility tests we need to carry out on you and your partner – such as ovarian reserve, hormone levels, ultrasound scan and semen analysis - will usually have already been done at an earlier visit to our clinic.
Your fertility doctor will have all the results, ready to discuss them with you, together with details of any previous treatment cycles you've had elsewhere.
Treatment explanation, likely outcome and timescales
Your consultant will explain which treatment is most likely to result in pregnancy for you and why, your likely outcome and if any additional techniques or technologies may be of benefit in your particular case. These may include Pre-Implantation Genetic Screening or SpermComet sperm DNA damage testing.
You'll also be given a full treatment timeline and a fully costed transparently priced treatment plan, so you can see exactly what you're paying for with no hidden extras.
We'll also explain any funding options that are available to you – such as Access Fertility's IVF Refund, IVF MultiCycle or Donor Eggs Refund plan – giving you a financial choice of how to fund your treatment.
So you'll finish your first doctor's appointment with a clear view of your fertility journey – from how we'll support you to, giving you the best chance of having a baby to how soon you'll be able to take a pregnancy test and even if you can have discounted treatment with a money-back guarantee.
Reassurance and help – making decisions with confidence
Don't worry about being overwhelmed with information during your first appointment. We're here to reassure – not to bombard you with medical or fertility jargon.
Your consultant will explain everything simply, so you understand your treatment path and what it involves. We'll take our time so you're absolutely clear about what we're planning for you. We expect you to ask lots of questions, including ones you think of later at home! It's never a problem; just call our team – we're always happy to help.
You'll also have the benefit of EngagedMD, an innovative interactive educational tool we use for patients that helps you to learn more about your treatment from the comfort of your own home.
Thinking it over
You're under no pressure to make any treatment decisions at your first consultation. It's important to us that you start your fertility journey with no stresses or concerns about what's to come. You're facing one of the biggest decisions you'll ever make, so take the time to talk it through.
We'll give you as much information as you need to take away and review at home, and we're always available to chat through anything with you, to help you reach an informed decision.
Consent forms – the official start of treatment
Once you're ready to begin treatment, we'll prepare consent forms for you and your partner to review and sign. This is formal documentation that you're requesting treatment with us, and what it involves. We'll go through everything with you, so you don't need to worry.
Joining the Manchester Fertility family: Our care and support
Once your consent forms are completed you're now officially under the care of Manchester Fertility – welcome to our patient family!
We're all here to help you at every stage. You can look forward to receiving only the highest standards of personal care from our professional and friendly team as you prepare for your baby.
Take your first steps to fertility treatment with Manchester Fertility
Self-refer to have your family with us here, we don't need a GP referral. Or have a chat to our friendly Patient Advisors on 0161 300 2737. To see what it's like to be our patient, read some of our Testimonials.
Last updated: 18th December 2020