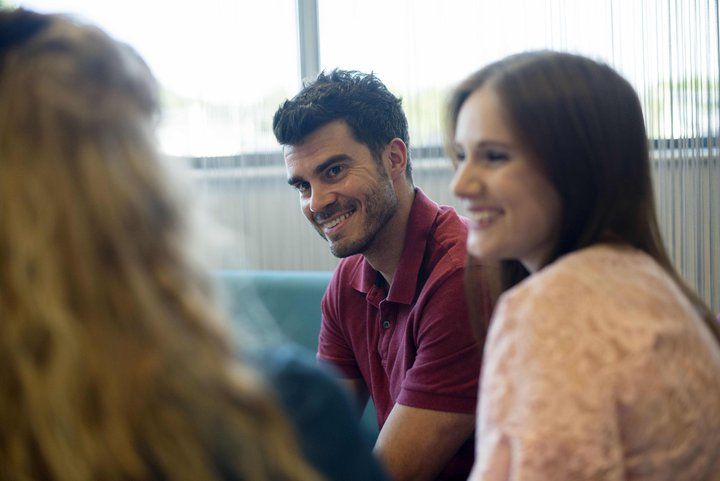 There are lots of reasons why many people come to Manchester Fertility, often bypassing local fertility clinics despite the distance or even travelling from abroad.
We've heard it's because of our expertise and our transparency. Our individualised approach. Because we're a team that genuinely cares and takes the time to get to know you.
But mostly, it's because all these things mean people very quickly get a reassuring 'feel' for our clinic and our team from the moment they walk through our doors.
Here's what you can expect from your own IVF and fertility journey with Manchester Fertility:
A friendly start: There's nothing better than a friendly face, reassuring smile and cheerful welcome when you're about to start a life-changing journey. Our receptionists and Patient Advisors are here to help answer all your questions and queries.
Cutting-edge clinic:Everything in our clinic is created with you in mind. From our relaxed reception and consulting rooms to our state-of-the-art laboratory, it's designed to be the best environment for you and for your baby at the very beginning of life.
Personal, professional support: You can look forward to compassionate, personal support every step of the way. We'll quickly get to know you, your circumstances and what's brought you to us, so we can give you the support you need.
Expertise:We have some of the UK's most renowned fertility specialists on our team who are at the forefront of IVF, fertility care and practice. Your fertility consultant plays an integral role in your journey at Manchester Fertility – you'll always see the most appropriate doctor for your diagnosis. Consultations can also be performed over Zoom.
Planning your treatment:Your treatment will be clearly explained to you with no medical jargon, so you understand exactly what's involved. Fertility treatment is optimised for you, for the best chance of success.
Transparent costs:You'll never find hidden extras at Manchester Fertility. You'll be told upfront how much your treatment will cost and exactly what's included whether you're paying traditionally as you go along or through a pre-paid package. So you can focus on getting ready for a family with no financial surprises.
Innovative communication:We keep you informed to keep your journey stress-free. We give you your own online Patient Portal and educational tool, so you can track your treatment and learn more about it from the comfort of home 24/7. There's also a personal App which syncs to our clinic system, for medication reminders, appointment alerts and secure messaging with our clinic team.
Your success, our success:We're all invested in your IVF journey and your success as much as you are and all share in the emotions of treatment outcome. It's why so many of our patients actively keep in touch with us and choose to come back to grow their families.
Start your IVF journey with Manchester Fertility
Begin your own fertility treatment journey with us. There are so many easy ways you can get started: 
 However you choose to get in touch, we look forward to supporting you.
Last updated: 17th August 2020