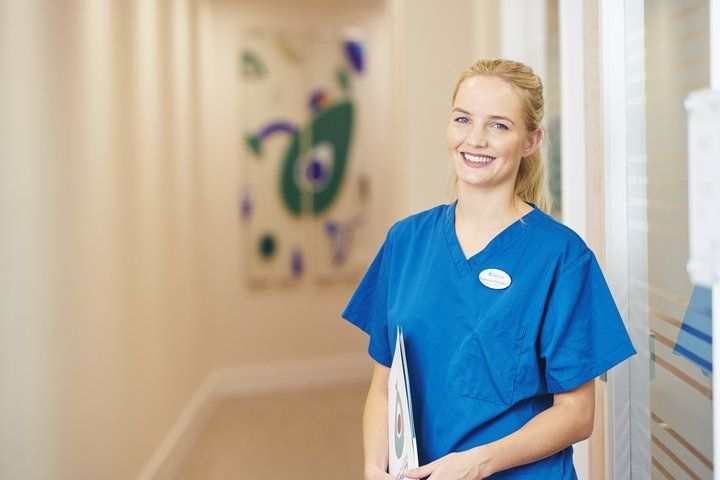 When you have fertility treatment with Manchester Fertility, you can look forward to continuous support from a co-ordinated and compassionate team.
With expertise across fertility care, our team works together to help you through every stage, focused on your needs and your wellbeing to treatment outcome and beyond.
Your Manchester Fertility support network includes:
Receptionists
Our support begins with our receptionists, led by Head Receptionist Rita Dixon. One of the most familiar faces of our team, she's been giving patients a reassuring and warm welcome for over 10 years, ensuring you feel comfortable and relaxed right from the start.
Fertility Nurses
Our Fertility Nurses are by your side every step of the way, providing you with the day-to-day personal support and care you need through the ups and downs of treatment. With in-depth understanding of your specific treatment path and circumstances, they are your go-to for any treatment queries, liaising with your consultant and our lab team.
They also help to support you with fertility medications, teaching you how to administer these at home. Our Fertility Nursing team, led by Sister Samantha Potts, are all qualified registered nurses who have many years of experience in both NHS and private women's healthcare.
Ultrasonographers
Our caring, sensitive and experienced Ultrasonography team, Anne Hurleston and Becky Chambers, perform any scans you need pre-treatment, which are used to help determine the best course of treatment for you. They also perform your confirmation pregnancy scan.
Technology support
We also use the very latest technology and systems to support you during treatment. We know even small queries can feel like big issues, so our Salve App enables you to quickly and easily direct message our Fertility Nursing team for reassurance and any treatment questions, whenever they come to mind. You can also use Salve to keep track of your treatment appointments.
Our Engaged MD tool is an informative and educational consent system, helping you to understand your treatment through personalised videos so you can give your informed consent.
Midwifery support
Our in-clinic midwives Lynsey Moorhead and Stacey Rees give you reassurance and help when you are waiting to take your pregnancy test, and provide essential early pregnancy care following successful treatment, in the exciting first weeks of your pregnancy.
They support you after your pregnancy confirmation scan and are on-hand to help with any questions or concerns about pregnancy health, symptoms and self-care. They also arrange your transition to local maternity care services.
Manchester Fertility patient support group
You can be supported by other Manchester Fertility patients, through our new Patient Support Group.
A place to chat with others who know what you are going through, our Support Group brings patients together to share experiences, tips and positivity.
Join in online or come along to one of our regular in-clinic informal and friendly meet-ups. Our first meeting is this Weds 15 May from 7pm.
Start your treatment with Manchester Fertility
See what our patients say and meet our newest babies. If you are ready to explore starting a family with us, arrange a free 1-2-1 or a consultation online. Or call our friendly Patient Advisors on 0161 300 2737.
Last updated: 13th May 2019