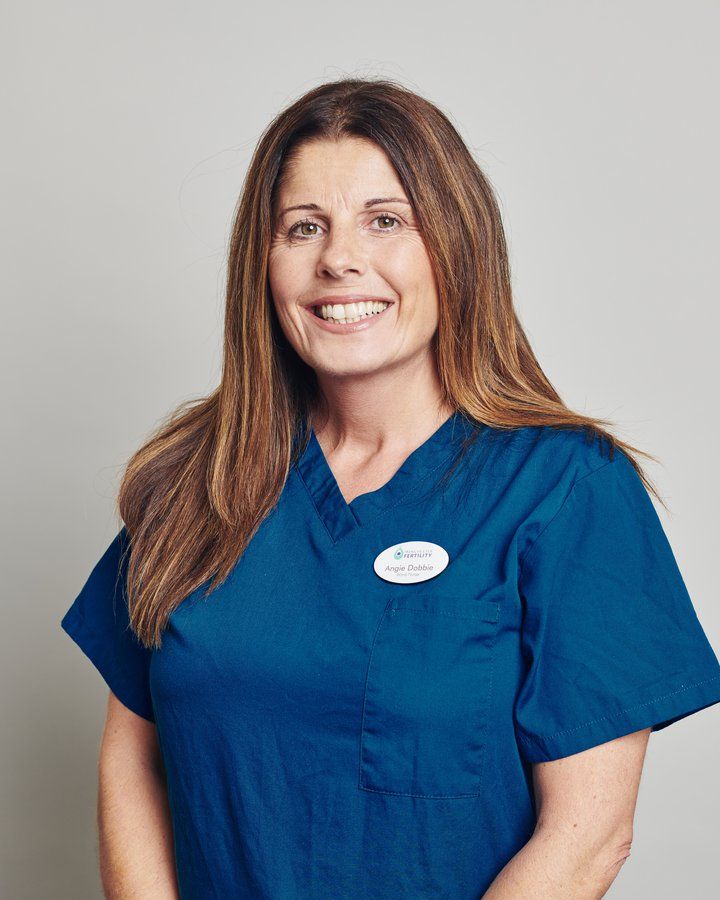 Angela is one of our Ward Nurses here at Manchester Fertility. She is part of our passionate, experienced Nursing team that looks after our fertility patients during their treatment. 
Angela has vast experience of taking care of patients for many years. She provides the very best knowledge, support and emotional care to all our patients.
"I have great compassion for the patients going through treatment, and it is very rewarding to see them at the finish".
We sat down with Angela to find out what being a Ward Nurse involves, what support she gives to patients who are going through treatment, and we asked her why she loves her job!
How did you find yourself at Manchester Fertility?
I have worked at Manchester Fertility for six years, first as a bank nurse and now as a ward nurse. I previously worked as a registered nurse for over 30 years in the NHS and private practice. I came to work here through the recommendation of a colleague, and I love working alongside a great friendly, expert team every day.
Tell us about your job role?
As a ward nurse, I work on the ward and in the theatre, looking after our patients who are having egg collections. I admit patients onto the ward and follow them through to the theatre, supporting them during their egg collection. Following their procedure, I am responsible for giving them discharge information.
What appealed to you about nursing, specifically in the fertility sector?
I feel working in the fertility sector is extremely interesting and rewarding. It is also very exciting to help people fulfil their dreams of starting a family.
What support do you give to patients who are going through treatment?
I offer a lot of support to every one of our patients by thoroughly explaining all procedures, answering all questions, and providing empathy at all times. The team at Manchester Fertility puts patient care and support first.
As a Ward Nurse, what is the most rewarding part of your job?
As a ward nurse, the most rewarding part of my job is when a patient has a successful egg collection and can proceed to embryo transfer.
Describe what it's like to work at Manchester Fertility?
Working at Manchester Fertility is an amazing opportunity. The team I am part of is very supportive. I am continuously learning every day and applying my knowledge to my practice.
One word that describes you
Conscientious
What are your top tips for someone going through treatment or struggling with fertility right now?
For someone going through fertility treatment, I would advise them to share their anxieties and feelings with us as we are here to guide, support and care for our patients every step of their fertility journey. I would also recommend that they join the fertility networks and online forums that offer support too.
Many patients find our Facebook Fertility Support Group invaluable at this time. Here you will be in good hands as the group is led by our experienced, Senior Patient Advisor – Hayley Cuthbert and Embryologist - Sophie Jurczak. You can connect with other Manchester Fertility Patients in the group and learn more about what other patients are going through in their fertility journey. You can participate in our group as much or as little as you wish to.
It is an excellent support group where you can ask questions, share tips and find support with others who may be experiencing the same things you are at any time you need it, before, during or after treatment.
Meet the Manchester Fertility team
Visit our Meet the Team  page to learn more about the rest of our friendly, knowledgeable team and their expertise. 
If you are looking to start IVF treatment with us but don't know where to begin, we recommend booking a free 1-2-1 discovery appointment with our dedicated, friendly New Patient Co-ordinator Team. Who are here to explain the IVF process, treatment stages, funding options and answer any questions you may have?
Last updated: 18th February 2022