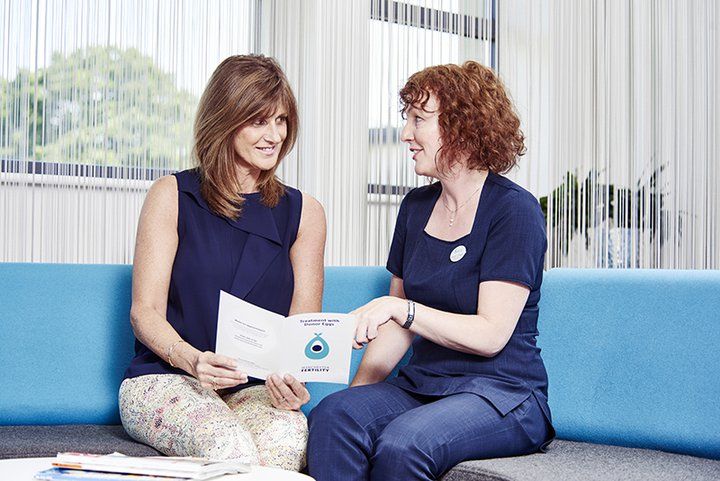 Is there a shortage of donor eggs where you live? Many fertility clinics in the UK don't have their own egg donation programme, which means your local clinic may have a long waiting list if you need an egg donor to have a baby.
If you're facing a long delay because of a lack of egg donors in your area, you may be tempted to go abroad. The media is regularly full of stories about women who have headed overseas to find an egg donor, with egg donors available quicker and treatment seemingly 'cheaper' than here in the UK.
But you may not need to resort to a foreign egg donor in an overseas clinic. Did you know we can offer you immediate treatment with donor eggs right here in the UK, even if you live outside of our region?
We've helped many women from right across the UK to have a baby with the help of our egg donors. We make it easy and convenient to have IVF with donor eggs with us no matter where you live, by adapting your treatment path and tailoring appointment times and procedures, to streamline your journey so travel is minimised.
We can also help make IVF with donor eggs a cost-effective treatment. We offer the Access Fertility Donor Egg IVF Refund programme – which gives you a money-back guarantee if you don't have a live birth – and our own, tiered-price egg donor packages.
Here's why we always advise travelling to a UK clinic that has available donor eggs, rather than travelling abroad:
Egg donor screening:In the UK all egg donors are screened to the strict standards set by the HFEA, to ensure that the donor eggs are safe to use for both the patient and any child born.
Identifiable egg donors:Egg donors in the UK are identifiable to any child you have. This means that your child is able to find out when they turn 18 years old, if they wish to, who their donor is and can trace their biological origin. A foreign egg donor may be completely anonymous, meaning your child can never find out their genetic origins and who helped them to be born.
Legal implications:In the UK HFEA-registered egg donors have no legal, moral or financial responsibility for any child born, they are not the child's legal parent.
Donor counselling:All Manchester Fertility egg donors, and our patients who need to use donor eggs, receive extensive counselling. This is to ensure everyone understands the implications of donating and using donor eggs, so our donors and our patients can proceed with confidence.
Continuity of care:You'll be under our care at every stage of your treatment, including the earliest stages of your pregnancy. Our Donation Team provides you with dedicated support throughout your journey; our fertility midwife looks after you following successful treatment, performing your pregnancy scan at 6-7 weeks and arranging transfer of your care to your local NHS unit to continue your pregnancy. Many women who go abroad will return back to the UK post embryo transfer, with no continuity of care or help.
IVF with donor eggs: Get started
If you'd like to have a baby with the help of one of our egg donors, call our Patient Advisors to get started on 0161 300 2737 or apply online. Our specialist fertility consultants can see you straight away.
Last updated: 20th January 2020