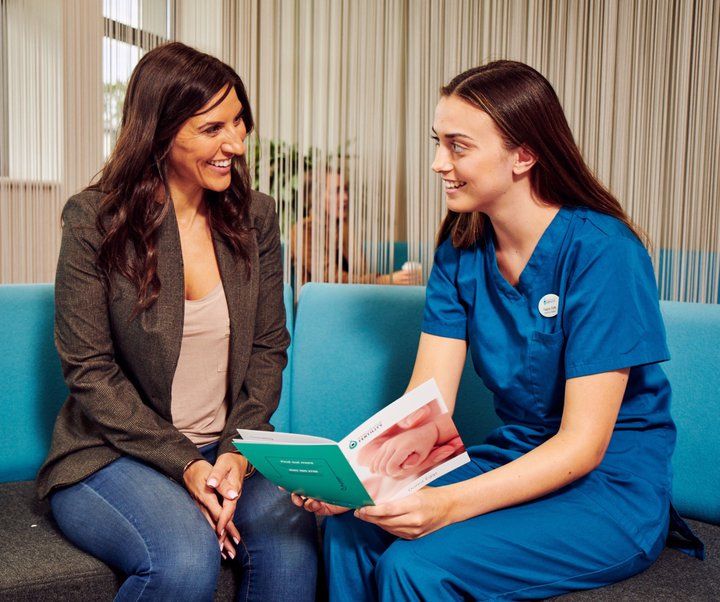 Using donor eggs is the way forward to a family for many women and couples. But it is not always easy to make the decision, because of the emotional significance it carries.
Here's how we help and support you when you are deciding whether to proceed with treatment using donor eggs:
Understanding why donor eggs are your best chance of pregnancy
Making the decision to use donor eggs is a lot easier if you understand exactly why you need donor eggs. Your fertility consultant  will explain it all to you, simply and clearly.
You can be assured that we will always make sure you are fully informed, so you can make a decision about how to proceed.
Time to consider
You will not be expected to make any treatment decisions straight away. It is important that you and your partner take the time to talk it through, so you are both confident and comfortable in using donor eggs to have a baby. You may also wish to talk to family too.
Our team is always here to answer any questions you have.
Our support for you: Donation Team and counselling
When you have treatment with donor eggs, you will be supported by our Donation Team. Our Donation Team is dedicated to helping people who are using donor eggs through treatment.
They arrange all your appointments and support you with egg donor selection. All of our egg donors are from our own UK egg donor programme, for your reassurance.
You will also be given counselling.  We understand that it is a very personal decision, so counselling is essential and also mandatory. You can talk through how you feel about using an egg donor and any concerns you have, no matter what these may be.
Many women worry about bonding with their baby and how using donor eggs may affect their partner, family members or existing children. All of these worries are perfectly natural – we are here to help reassure and support you.
We will explain your rights, the rights of your egg donor and of the child you may have. All of our UK egg donors are traceable, which means your child can find out who their donor is when they turn 18, if they wish to know.
Start donor eggs IVF: No waiting list
We don't have a waiting list for treatment with donor eggs so if you wish to start treatment, you can begin straight away.
We have fresh and frozen UK donor eggs and a choice of treatment packages to make donor eggs IVF cost-effective, including our new fixed-price packages.
Talk to our Donation Team to get started on 0161 300 2737 or make an appointment online.
Last updated: 29th January 2020