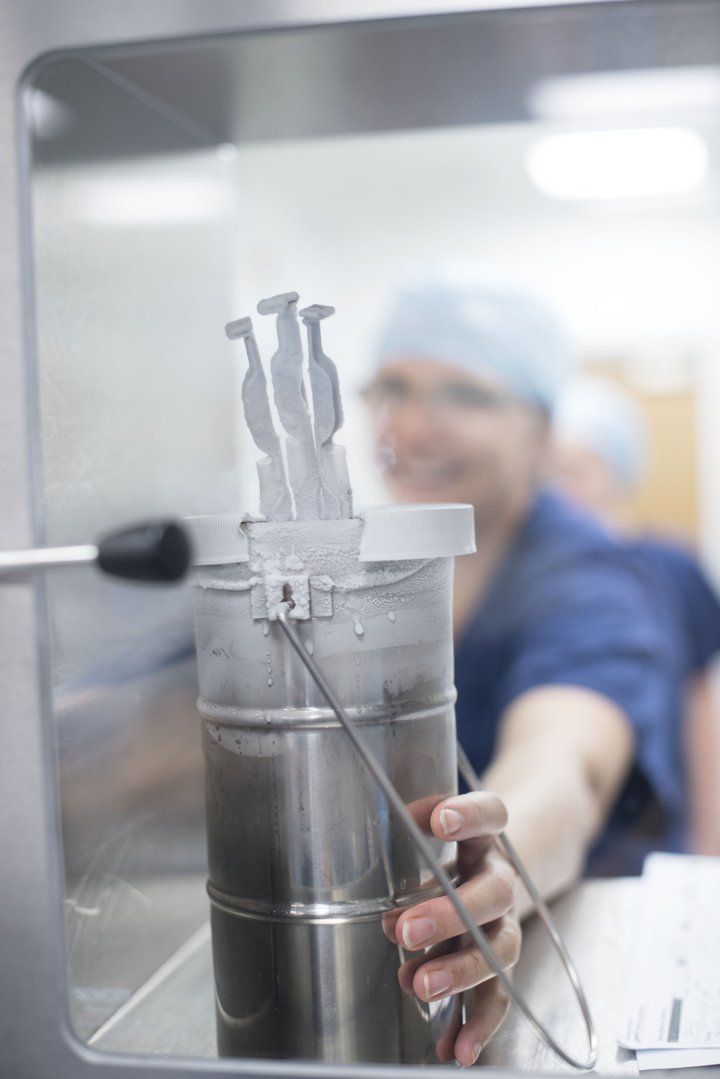 Do you need donor eggs? Worried about waiting lists and the cost of treatment? Or that you might need to go abroad?
There's a way you can have treatment using donor eggs in the UK quickly and safely – and it involves choosing eggs from our frozen donor egg bank.
Our frozen donor egg bank gives you instant access to donor eggs. But what makes our frozen donor eggs different is that we know all the women they're from. Our donors are UK-based women who donate to us through our own award-winning Manchester Donors egg donor programme.
Here's why our frozen donor egg bank may be your ideal option to have a baby:
1. Cost-effective donor eggs treatment
If cost is your major concern, frozen donor eggs from our bank makes treatment accessible. We offer a Frozen Donor Eggs Multicycle funding plan which gives you up to two cycles of treatment at a discounted cost. And because the eggs are already in our donor bank, you can start treatment straight away too.
2. Regulated donor programme
Our donor egg programme and frozen egg bank is regulated by the HFEA. It means we have to follow very strict rules such as how we recruit egg donors and who can donate, what health screening they have, our care for them and how many children each egg donor can create.
Women who want to donate eggs to us also have to abide by certain rules, including being identifiable to your child in future.
What this means for you is the reassurance of safe, health-screened donor eggs from a healthy and traceable UK egg donor, so your child can find out about its origins and any donor siblings, if they wish to know.
3. Quality egg donors
Because we only accept women who meet certain criteria as egg donors, all our egg donors are in good health and have been tested and screened for STIs and certain genetic and hereditary conditions.
They have been carefully counselled about the implications of egg donation and are happy to proceed. They even write detailed personal profiles, so you can choose your egg donor with confidence.
4. Quality eggs
We focus on the quality of donor eggs rather than the quantity, with all fertility medications tailored to each of our egg donors.
Once donor eggs are retrieved they're frozen by our expert embryologists using the latest methods, so the eggs have the highest chance of successfully thawing for your treatment. We guarantee six donor eggs per cycle from your chosen donor.
5. Supported treatment
Personal support and continuity of care is our priority. You'll be supported by our dedicated Donation Team, counsellors, fertility consultants and nurses throughout your entire treatment journey, even in the earliest days of your pregnancy. We're here for you every step of the way.
Explore treatment with frozen donor eggs
Talk to our friendly team on 0161 300 2737 to find out more about your options to have a family using frozen donor eggs, or book in for a free and private 1-2-1, where we can answer any of your questions and give you all the information you need.
Last updated: 20th January 2020