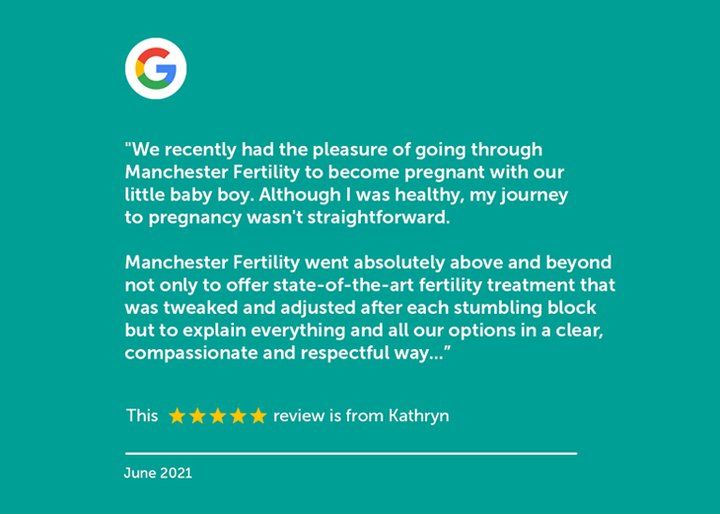 At Manchester Fertility, our patients are at the heart of everything we do, and we love to hear feedback from those who have chosen our clinic to be a part of their fertility journey.
In the 35 years since we opened our doors as one of the UK's first fertility clinics, we've helped thousands of couples and individuals achieve their dreams of starting a family. Many of them have kindly left us reviews. We are grateful to every patient and those who have shared their experiences; it really makes what we do so worthwhile.
What our patients say
To all of our patients, past and present, who have shared feedback through reviews and ratings on our Google and Facebook page we want to thank you for taking the time to write your messages to share with others who may be looking to start their own fertility journey.
We are fortunate to have received so many heart-warming comments in recognition of our wonderful team and caring approach - here are just a few reviews that have touched us all here at Manchester Fertility.  
Facebook reviews
"What an amazing experience my husband and I had with Manchester Fertility. After failed IVF attempts with the NHS, we decided to venture elsewhere for treatment and came across Manchester Fertility. We were delighted to find out the first cycle of IVF with Manchester Fertility was successful after many years of trying. We welcomed our little boy into the world in 2020. We can't thank them enough! We found the team very welcoming and friendly but most of all very professional. I would 100% recommend this company."
Louise. December 2020
"My partner and I cannot recommend Manchester Fertility enough. The staff are all so kind, caring and fully explained all our options. We had one round of IVF and now have two beautiful girls. The care we received throughout all of the treatment was 5 stars!"
Acceber. Feb 2020
Google reviews
"Where to begin? It's hard to put into words how much we love Manchester Fertility and how thankful we are for the joy they have brought into our lives.
We had a meeting with a Patient Coordinator a good year before we started treatment. They spoke through our options, answered all our questions and went through payments. During treatment, everyone was lovely, but Sam Potts, the head nurse, is worth her weight in gold; we had an issue with some pain relief, and she talked me through it all step by step, really reassured me and kept my partner who couldn't be with me due to Covid up to date and really made her feel part of the journey even when she couldn't be physically there with me.
And Dr Peter Kerecsenyi oversaw our treatment. He is the most charming man and made us feel like the most important patients he had.
We travelled from Doncaster to use the clinic even though there are several nearer to us. I would do so again purely down to the personal care and professionalism Manchester Fertility showed to us.
Thank you, Manchester Fertility - lots of love Danielle, Rebecca & baby Albert xx".
Rebecca. Aug 2021
"We recently had the pleasure of going through Manchester Fertility to become pregnant with our little baby boy. Although I was healthy, my journey to pregnancy wasn't straightforward. Manchester Fertility went absolutely above and beyond not only to offer state-of-the-art fertility treatment that was tweaked and adjusted after each stumbling block but to explain everything and all our options in a clear, compassionate and respectful way.
Overall, you feel like their staff really care about you, not just that you get pregnant, but also your emotions. They are really there for you and are extremely warm and generous. I 100% recommend this clinic to anyone seeking fertility treatment."
Kathryn. June 2021
"Thanks to Manchester Fertility Clinic, our family has been gifted with three beautiful children. Every time we attended our appointments, we were treated with respect and dignity.They never gave us false hope. From the very beginning of our journey, we felt that they were going to do everything to help us, to bring a little human to our life. The dreams came true. We will be forever grateful for all the support during the treatment, great empathy, understanding, friendly welcome and a warm goodbye. Thank you."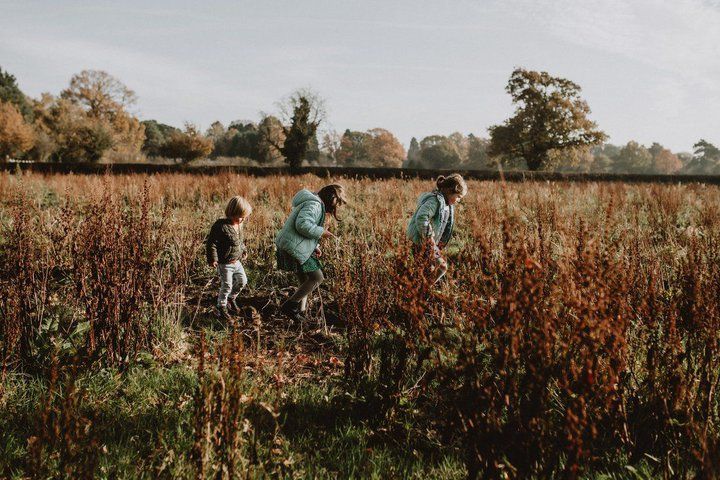 Read Magdas entire story here.
When we receive feedback like this, it really does bring smiles to our faces. We are committed to providing the warmest welcome to every patient who comes through our doors, and we are here every step of the way.
Why choose Manchester Fertility?
As one of the UK's leading fertility clinics, we've helped 7,000 babies be born and thousands of individuals and couples like Acceber, Louise, Rebecca, Kathryn and Magda to start families of their very own.
We understand that everyone's fertility journey is different, which is why every patient who chooses to come to us receives personalised care and dedicated support from our passionate team of experts. Our state-of-the-art clinic is a relaxed and welcoming environment, and every member of the Manchester Fertility is committed to making patients feel at ease and reassured.
Our patient-centred, compassionate approach has helped us to become one of the country's most trusted fertility clinics. We're proud to have been recognised with numerous awards, including Best Fertility Clinic, North West England and Patient Care Excellence Award, Cheshire - and we're one of few clinics to have our very own  egg and sperm bank,  too.
If you're thinking of starting fertility treatment, a great way to help you decide whether Manchester Fertility is the right choice for you - read what our patients have to say and discover the honest opinions of those who have already taken their journey with us. You can also look at our Patient Stories to learn more about their full experiences at Manchester Fertility.
Share your story
We love to celebrate the news of our patients welcoming their bundle of joys to the world by sharing their kind testimonials along with the pictures of their beautiful babies, born with the support of the entire Manchester Fertility team.
We'd be delighted to share your story, too, so if you're comfortable, don't hesitate to send over your words and pictures to be featured on our website and social channels - email us at family@manchesterfertility.com.
You can also leave us a Google review or on Facebook to share your experience with us. We will be forever grateful to all of our patients who have let us know how we have helped achieve your dreams of having a baby.
Last updated: 24th August 2021