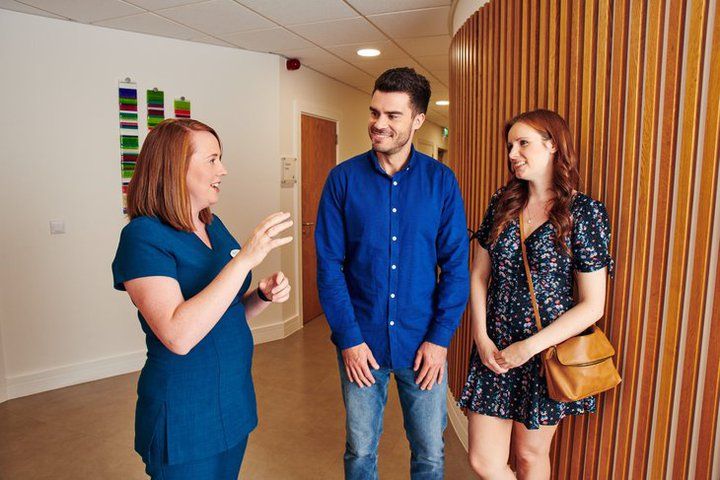 In our 35-year history, Manchester Fertility has helped thousands of couples and individuals realise their dreams of starting a family.
We sometimes get asked what makes us different. Why do patients choose us over other clinics? Patients obviously want to give themselves the best chances of success in their journey to start a family. We have found over the three decades that it's the things you can't quantify that really matter to our patients. You can see our success rates here.
A warm, friendly welcome when you first arrive. The support, guidance and care you receive at every stage of your journey. It's the personal, caring approach that our patients tell us really makes a difference in their treatment.
We've collected some of the most common responses we've received when we asked patients why they chose us. We hope you'll find these useful when deciding which clinic to choose for your fertility treatment.
"You were recommended by friend" 
This is the response we hear most often. Fertility treatment is a highly personal and often private experience. But talking to family and friends will help you realise you aren't the first person that's needed help.
The chances are you already know someone that's had a positive experience with fertility treatment and they're usually only too happy to recommend their clinic – and that's often us!
"The person I spoke to on the phone was very friendly"
We're proud to say this is something that we hear a lot from our patients. We're blessed to have some of the nicest, friendliest and most caring staff on our team, and it shows in the satisfaction of patients. The atmosphere in the clinic is always positive and friendly and, as a patient, this can be very reassuring.
"We found the support group incredibly helpful" 
Support from friends and family is really important, but the opportunity to speak to people that are going through the same life-changing experience as you, and the opportunity to process how you are feeling in a safe environment can be incredibly valuable.
Our monthly in-clinic support group is on hold for a while during this time, however our online Facebook community is still very active and you can still join our Facebook support group to speak to other patients. If you'd like to learn more about this supportive and welcoming community, please search for Manchester Fertility Support Group on Facebook. 
"The fertility and free 1-2-1 consultation put my mind at rest"
We offer a fertility assessment to new patients. This is a great place to start if you have been trying for a baby and aren't sure if you need fertility treatment or not. You can sit down with a doctor for an honest and open conversation about your options with fertility treatment.
We also offer free a 1-2-1 discovery appointment at the start of your fertility journey with one of our New Patient Co-ordinators, so you can discuss your treatment, get your questions answered and generally prepare for your fertility journey, to book a 1-2-1 you can get started here.
"Our private friendly clinic with parking"
Our clinic is peaceful and a calm private clinic with a welcoming atmosphere. You're treated as a valued patient with plenty of time to discuss any questions you may have. Our entire team is focused on you and your fertility journey. And of course, we have free parking outside the clinic!
"Your prices are clear on the website"
We insist on an honest and transparent approach to how we treat patients – and this includes pricing. We like to be upfront and honest about our prices, we publish all our prices on our website and make it very clear what is included. If you need someone to talk to about costs, you can ask a member of our New Patient Team who'll be happy to talk you through them so you fully understand what prices are involved if you are thinking about treatment. Our Patient Team can be contacted on 0161 300 2737.
"Your expert team!"
Our highly experienced team of fertility consultants, nurses, embryologists and others all play a vital role in helping patients. All of our specialists are leaders in their field and they all receive excellent patient feedback on ratings websites like Doctify.
"I'm confident you are taking steps to ensure patient safety during the coronavirus pandemic"
Manchester Fertility was among one of the first clinics in the North West of England to be granted permission to reopen. Our priority, as always, is to maintain our existing safety processes to make sure we can continue delivering the best standards of treatment while also protecting patients and staff. You can read more about how we are keeping our patients and staff safe here.
Client testimonials
Here are just a few of the testimonials we've received from our happy patients:
"We hardly dared hope for two healthy beautiful children from only three cycles"
"We hardly dared hope for two healthy beautiful children from only three cycles. We are so blessed and the journey was made very smooth by the staff. Special thanks to our consultant Peter who made us feel so supported from the start of this journey to the end. We are forever grateful for our family."
Emma, Helen and baby Petey
"You are all amazing and have helped our dreams come true"
"Following the birth of our son Theo on 13th April, we would like to say a huge thank you to all of the wonderful staff at Manchester Fertility.
From the moment we stepped foot through the door, we received the highest level of care, which continued throughout our IVF journey. You really are all amazing and have helped our dreams come true."
Rachel, Mel and baby Theo
"Everyone at the clinic was lovely"
"Tim and I just wanted to email to say a huge thank you to everyone involved in our fertility journey. I gave birth on 8th January to Martha Trudy and she is just perfect. Everyone at the clinic was lovely and have helped us start our family."
Helen, Tim and baby Martha Trudy
You can read more Patient Stories from our patients here.
If you have any questions about Manchester Fertility and the fertility treatments we provide, you can contact a member of our New Patient Team on 0161 300 2737 or you can start your journey here.
Last updated: 16th September 2021