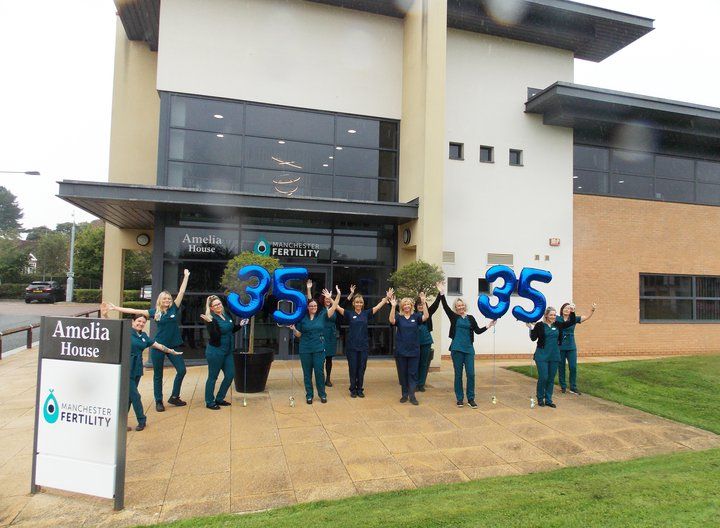 This year marks a milestone for us at Manchester Fertility and sees us celebrating 35 years of helping patients fulfil their dreams of becoming parents, with over 7,000 babies born.
Over the years, Manchester Fertility has achieved many milestones, such as growing an experienced, passionate team of experts and working with new advanced technologies and leading IVF treatments in our very own purpose-built clinic. While maintaining a strong support network and the highest standard of care to every one of our patients.
We are proud to be one of the UK's leading Fertility Clinics, recently winning two awards, including the Best Fertility Clinic – North West England and the Patient Care Excellence Award – Cheshire. See why we are award winning here.
Most of all, we have created some of the most memorable moments and to mark those moments we sat down with some of our team to reflect and ask some questions on some of the changes we have all been through.
Can you believe we have helped 7,000 babies be born?
Debbie Falconer, joint Managing Director, was part of the team that welcomed Manchester Fertility's first IVF baby Philip Hood. She says, "I know first-hand how wonderful it feels when you have helped someone to fulfil their much-wanted wish to have a baby. We have so many patients who still keep in touch with us, sending photographs on their child's birthday every year; it is really lovely."
Sister Sam Potts, Head of Nursing, "It's hard to imagine that we have helped create that many babies."
Claire Kay, Head of Laboratory, "My first ICSI pregnancy was an amazing feeling, as was the first live birth from embryos that I had biopsied for PGT-A."
Hayley Cuthbert Senior Patient Advisor, "It is always rewarding when one of your patients that you have built a relationship with has a successful outcome, I can remember my first patient."

Paula Lynch, The Senior Fertility Nurse, says, "I love seeing a heartbeat on the patients first scan and when the patients brought in their babies to meet everyone, pre-covid, hopefully one day we can get back to that pre-covid world, where we get to see everyone again."
Do you remember our move in 2013?
In 2013, we moved from the Bridgewater Hospital to our great clinic we are in today - that we purposely built with our patients in mind, it was designed by our very own clinical team to the exact requirements. The clinic provides the highest level of care in a warm, welcoming, relaxed environment. Our laboratory uses the most advanced technologies and is equipped with state-of-the-art facilities even with our own private free car park. 
Sam Potts, our Head of Nursing does remember that move and says, "The move to Amelia House in Cheadle from The Bridgewater Hospital was emotional and amazing. Not only because it was a massive achievement but seeing the empty shell develop into such a beautiful purpose-built clinic which is a pleasure to work in is wonderful."
Changes and developments over the 35 years
Our specialist team have experienced first-hand the new technologies and equipment that have been introduced and continue to invest in techniques to ensure every patient has the best chance of achieving their dream. Including recently, we introduced IDA score, the new AI (Artificial Intelligence) time-lapse technology to support embryo culture and selection further.
What are your views on the changes in developments? 
We asked Debbie and Claire.
Debbie says how "Everything is more sophisticated now, from the culture media and equipment to the treatment regimes to optimise the patient's success."
In the 35 years, there has been the introduction of ICSI for male fertility issues, Vitrification to improve survival rates of embryo and egg freezing, improved embryo selection with blastocyst culture, time-lapse incubators and PGT-A." 
Claire Kay, Head of Laboratory, has not only been at the forefront of the new developments in technology within the clinic, but she has been here from the very beginning of her career in Embryology. 
Claire says, "Embryology has developed a huge amount, blastocyst culture, cryopreservation by vitrification, and time-lapse technology have all become routine. We've seen our results improve with these developments over the years. Also, the growth of our egg donor programme has meant that we are able to help so many more patients have a baby, which is fantastic."
We are a Fertility Family
Not only have there been changes in treatments and technologies, but there has also been incredible growth in our team. By expanding across different departments from 25 to 85+, our fertility specialists, embryologists, ward team, nurses to our patient teams and counsellors have enabled us to ensure we provide the right personalised care to every one of our patients. 
Every patient receives our full support, care and understanding from our dedicated team of experts every step along the way. We always say that when our patients start their fertility journey with us, we become part of their family, going on that journey with them. Sam and Hayley think this about our team.
Sam says, "Building a team that is second to none with the same caring attitude is rewarding."
Hayley says, "We are a friendly, calm, knowledgeable team that wants patients to know that we do genuinely care and want to support our patients every step of the way. "
Don't just take our word for it – meet some of our amazing and expert team members on our team page.
Here is what some of our Manchester Fertility Family say…
"We are thrilled to send you news of the birth of Hattie Amelia (named after Amelia House). We send a huge thank you to the Doctors and the endless nurses, midwives, embryologists and 'behind the scenes staff who were part of our difficult 4-year IVF journey. We had an equally challenging pregnancy, but our rainbow baby is more than we ever dared to dream. Thank you will never be enough."
Jill and Michelle
"We feel incredibly blessed to have Franchesca in our lives now and believe that without the help of Manchester Fertility that this dream would have been much harder, if not impossible, to achieve, and we cannot thank them enough for this."
Rebecca and Martin
"I would like to say thank you so much to Manchester Fertility for making my dreams come true. Rosie May was born in June 2020. Being 38 and single, I felt my dream was slipping away because I was too self-conscious about my situation. But as soon as I made that first call, every single person at Manchester Fertility made me feel welcome and supported.

You are treated with the upmost respect and you feel like your journey is the most important thing to them. IUI didn't work for me, but I was so lucky that my first attempt of IVF gave me my beautiful daughter. And how lucky I feel to have been so involved in her journey right from the start. I cannot begin to express my thanks to the whole team at Manchester Fertility for the care, dedication and compassion you have that has got me where I am today."
Lianne
We have many more beautiful patient stories to tell, read more of them  here
We want to end our thoughts with a very big thank you. Thank you for letting us be part of your journey for 35 years
It has been a wonderful 35 years and we want to thank all of our patients currently going through treatment and to all our previous patients that we now call our 'Manchester Fertility Family' – thank you for letting us be a part of your journey and for sharing the love with us all. Your beautiful thank you messages and beautiful pictures makes our job worthwhile. It's great to receive these lovely reminders every day on why we love to help dreams come true. 
We are looking forward too many years ahead
Debbie Falconer, Joint Managing Director "Throughout my career, I have worked with many people. All have had the same vision to provide the best possible chance to patients to achieve their hope to have a family. I hope that this continues."
Jonathan Koslover, Joint Managing Director, said: "Whilst we are leading in innovation, it is the care and expertise given by every one of our team that is remarked on by everyone who chooses to have treatment with us. It is wonderful to celebrate 35 years of Manchester Fertility, and we look forward too many years ahead and helping lots more patients."
Last updated: 19th August 2021