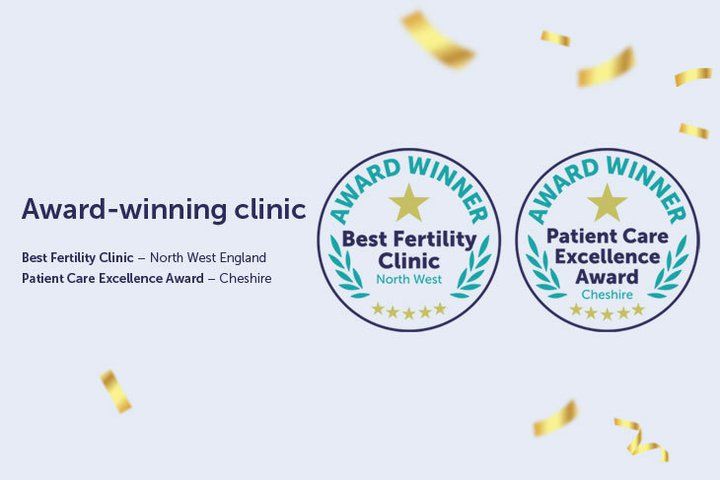 We are excited to announce, we have been recognised for our outstanding care and won awards:  Best Fertility Clinic – North West England and Patient Care Excellence Award – Cheshire.
The awards, run by Corporate Vision magazine, recognises successful innovation, excellent industry reputation and customer satisfaction.
Jonathan Koslover, Joint Managing Director of Manchester Fertility, says "We are proud to have won these awards and say: "It is an absolute testament to all our wonderful and loyal colleagues.
We pride ourselves on providing the highest quality of care to every single one of our patients and it is fantastic to be recognised for the exceptional support we have provided for more than 35 years."
Here's why we have been awarded these great accolades.
Our experience
One of the UK's leading Fertility clinics, Manchester Fertility has been at the forefront for over 35 years in helping thousands of couples and individuals realise their dreams of starting a family.
Our life-changing innovations, our patient-centred and transparent approach together with our outstanding reputation for patient care, has made us one of the most trusted fertility clinics in the UK. And one of only a few clinics in the UK to have our very own egg and sperm bank.
Our experts
Our dedicated team of specialists support our patients every step of the way. From our patient teams and nurses to our fertility consultants, counsellors and laboratory colleagues, we ensure every aspect of our patient's journey is personalised and focused on the best patient outcome.
All of our highly qualified experts are leaders in their field and are passionate in what they do. We can reassure our patients they are in excellent hands and receive the highest standards of care.
Our purpose-built clinic
Our bespoke purpose-built clinic has been designed to the exact requirements by our experts. From the warm, welcoming reception area and consulting rooms to our innovative laboratories, are all designed and developed to ensure a safe and comfortable clinical environment for staff and patients. We also have a large private car park with free parking.
Our forward-thinking approach and continuous investment in advanced technologies enables us to be one of the UK leaders in the latest fertility treatments.
We comply with all the regulations set by The Human Fertilisation and Embryology Authority (HFEA) and Care Quality Commission to reassure our patients that we offer the best quality care.
Our patient-focused approach
Our patients are at the heart of everything that we do. We provide a patient-focused approach as every person is unique. Each individual has a personalised treatment plan created by our expert teams. We are always honest and transparent about our treatment options and prices, so we don't have any hidden costs.
Our specialists are to here to provide a strong support network at every stage of a patient's journey. Whether that is over the phone, on zoom, through our custom-designed Salve app or face-to-face. We want to reassure our patients we are committed to their well-being and are trusted to help them with their emotional and life-changing path to parenthood.
Our results
Our compassion and patient-focused dedication has helped over 6,500 babies be born. Our personalised treatment plans are a key indicator to our consistent success rates.
At Manchester Fertility, we are always looking to develop and improve and continue to be the front-runners of innovative treatments and technologies.
Our reputation
We are one of the most reputable and experienced IVF clinics in the country, thanks to the skills of our devoted team of experts who have supported our patients for over three decades.
Our patients' satisfaction is very important to us, it helps us to continuously improve and provide the best experience possible. We receive excellent patient feedback through our review sites like Google, Doctify, the HFEA, and Facebook.
We love to stay in touch with our patients and hear their stories our patients become part of our Manchester Fertility Family.
Here are some testimonials.
 "We have truly never been happier and now our family is complete. Again, thank you ever so much for all the care and support. Fantastic clinic, with amazing people! "
Amy and Colleen.
"I just wanted to say a massive thank you to all the staff at Manchester fertility. From the first moment we came in we had nothing but help and support."
Lauren & Aaron.
Watch our video – where you can see more patient stories and see why our colleagues also think we are award-winning.
Last updated: 11th January 2022