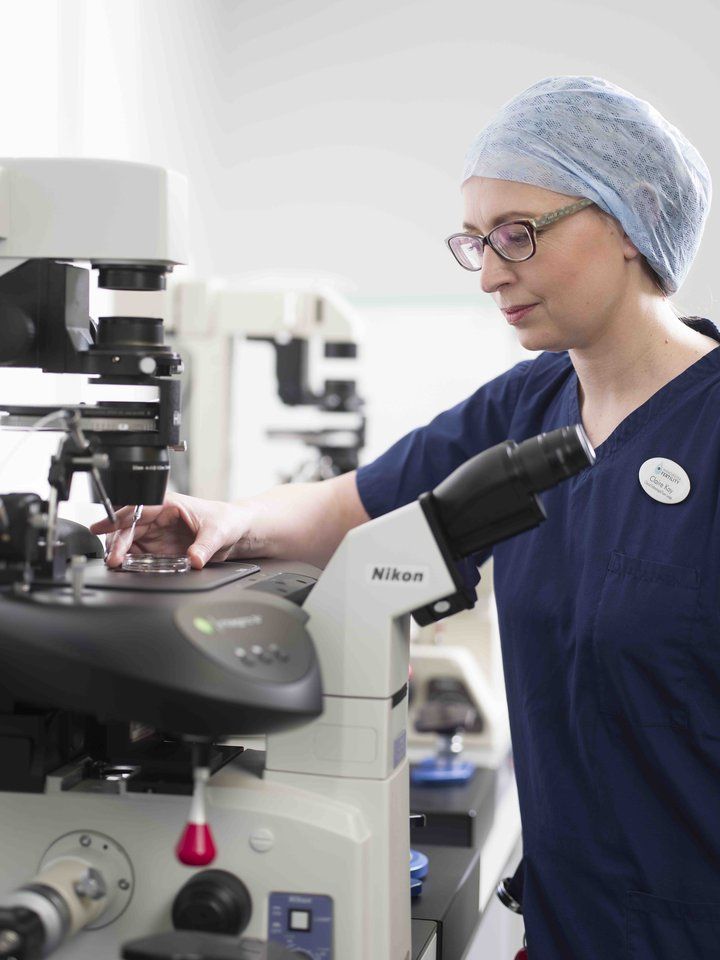 At Manchester Fertility, IVF involves much more than just joining sperm and egg together in our lab. We use the very latest, next generation IVF technologies and techniques to enhance and personalise your cycle for your best chance of a baby.
When you come to us for help to conceive, you can benefit from:
Blastocyst culture and transfer
Blastocyst culture is when we develop any suitable embryos for longer in our laboratory, to Day 5. By allowing an embryo to grow to Blastocyst stage - when we start to see cells that form the placenta and those that form the baby - we can identify which embryos are the best quality for transfer. Blastocyst culture is included free of charge in your IVF cycle.
EmbryoScope time-lapse embryo selection
Time-lapse embryo selection is a pioneering new way to identify embryos with pregnancy potential. Our advanced EmbryoScope incubators take thousands of pictures of your embryos as they grow, showing us the crucial development milestones we'd expect to see in good quality embryos.
A recent study of over 24,000 IVF treatment records showed that embryos chosen via time-lapse technology are 25% more likely to result in a live birth. All patients having IVF have the option to include time-lapse embryo selection in treatment.
Embryo genetic screening
It's now possible for us to test your embryos for chromosome abnormalities prior to transfer. Women of any age can produce an abnormal embryo, but the risk is higher the older you are.
Our embryology team includes embryo biopsy practitioners, who are specially-trained and skilled at the cell extraction needed for Preimplantation Genetic Screening (PGS), which may be advised if you have a history of failed IVF, recurrent miscarriage or are of advanced age.
EmbryoGlue
EmbryoGlue is a special solution that acts as a 'glue' to help your embryo to adhere to your uterus for implantation after transfer. It contains the hormones and nutrients you'd find in the body at pregnancy, to help nourish the embryo and encourage implantation.
At Manchester Fertility we use EmbryoGlue as standard in all embryo transfers, at no extra cost to you.
Electronic Witnessing
We use an advanced 'track and trace' system as an additional safeguard to manual checking, for your eggs, embryos and sperm. You're assigned a unique barcode which is then used for all procedures and processes involving your eggs, embryos and sperm in our lab, so only you can use them in treatment.
Our IVF innovations
Learn more about our IVF systems and technologies at Manchester Fertility, including your private Patient Portal and smartphone App, which helps you monitor and learn about your treatment journey.
If you'd like to start IVF with us, simply self-refer online or call our Patient Advisors on 0161 300 2737 to book a consultation or a free, private 1-2-1.
Last updated: 28th August 2019