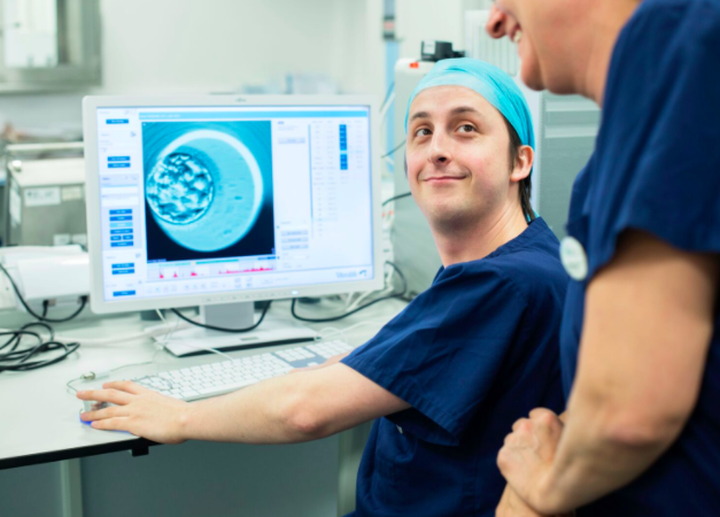 Embryo development and selection are crucial stages of the IVF process, but what do the different stages of embryo growth tell us about your chances of IVF pregnancy?
How we assess embryos for IVF
Embryo grading helps us understand an embryo's potential for pregnancy. By looking at the cell division and appearance of your embryos, our Embryology Team can evaluate their suitability for transfer or freezing.
If you're having embryos developed through standard culture and incubation, your embryos will be analysed using state-of-the-art microscopes.
If you opt to use time-lapse embryo technology as part of your IVF cycle, we observe embryo development through the detailed videos created by our EmbryoScope incubators. These take several photographs an hour of your embryos as they grow.
What we look for in a good quality embryo
We grade embryos on day three of development based on the evenness of cells, the number of cells and the degree of cell breakdown or 'fragmentation' that we can see.
Embryos with equal sized cells, symmetry and no fragmentation would be an ideal result for your IVF cycle. But embryos with lower grades may still have pregnancy potential too, depending on the level of cell breakdown, cell division, symmetry and other factors.
Because embryo development is so varied, the expertise of the Embryology Team is vital when assessing embryo quality. Our highly-skilled Embryologists have vast experience in grading and selecting embryos, to help you achieve successful IVF pregnancy.
Timing your transfer: Day 3 or Day 5 embryos
Depending on how many embryos are showing good development at day three, we may either advise to transfer an embryo now, or leave embryos in culture for another two days to day five, when we would expect them to be at blastocyst stage.
A blastocyst is an embryo that has reached a very specific, advanced stage of development where it expands and we see the cells that will eventually form the placenta and baby.
Having embryos transferred at day three doesn't mean you have less chance of pregnancy. If you only have a small number of embryos, it may be evident by day three which is the best for transfer. We'll therefore carry out your transfer earlier so your embryo can continue to grow and develop in the optimum conditions of your uterus.
If you have lots of good embryos at day three, then blastocyst transfer may be recommended, as it further helps to identify which of those good embryos has the most potential for pregnancy.
We'll advise whether you should have a day three embryo transfer or a day five blastocyst culture and transfer. There's no additional charge for blastocyst development at Manchester Fertility. If you have suitable embryos, it's included in your cycle for free.
Embryo genetic testing: Preimplantation Genetic Screening
Genetic testing is an additional way we can assess your embryos, and it may be advised if you have a history of failed IVF, recurrent miscarriage or are of older maternal age. Through Preimplantation Genetic Screening, performed by our specially-trained Embryo Biopsy Practitioner, an embryo's chromosome numbers can be safely analysed without affecting embryo development. Only those embryos with the right number of chromosomes are chosen for transfer.
Manchester Fertility: Embryology expertise, advanced innovations
If you've got any questions about how we evaluate embryo quality or about using time-lapse embryo selection in your IVF cycle, call our friendly Patient Advisors on 0161 300 2737.
You can also book in for a free private 1-2-1 with us if you're interested in starting IVF. Or self-refer online.
The Manchester Fertility team will also be at the Fertility Show Manchester next month (24-25 March). We'll be at Stand B10 all weekend.
Last updated: 23rd February 2018