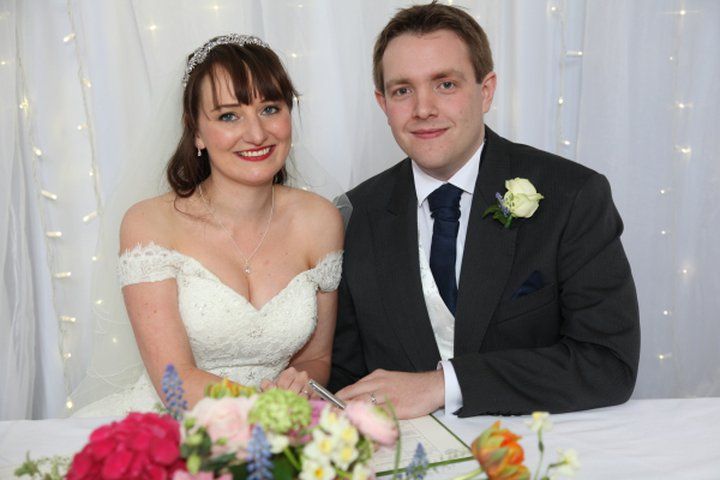 3 April 1987 is a date we'll never forget at Manchester Fertility. It was the day we welcomed our first ever IVF baby, less than a year after we opened our doors in 1986. 
The birth of Philip John Hood to proud parents Hilary and John at St Mary's Hospital was momentous for our team; making headlines across the region in TV news bulletins and in the press. 
In this week's special blog marking our 30th anniversary, 29-year-old Philip tells us about his life so far. Recently married to long-term girlfriend Isobel and still living locally in Prestwich, Manchester, he shares his memories about what it was like growing up as our first IVF baby.
"As a child I didn't really realise that I was 'special'…I remember as I got older Mum showing me pictures of when I was born, she'd saved all the press photos and clippings.
"I remember the Manchester Fertility reunions most of all, every year there would be this huge party thrown by the clinic staff. Everyone would fuss over me, Mum would get flowers. The numbers of children and babies at the party used to grow every year as more IVF babies were born, until in the end there were hundreds of us. Of course I was always the eldest one there.
"I went back to Manchester Fertility five years ago, when it was the 25th anniversary, and it was so wonderful to see many of the original team were still there who actually created me. 
"I still find it funny that they literally 'made me', they were there at the very start of my life, the ones who brought sperm and egg together and were keeping an eye on me through a microscope when I was nothing more than an embryo in a laboratory. Being conceived via IVF all those years ago, when it was still so new, hasn't affected me physically or health wise at all, I'm completely fit and well. 
"It's only really now, when I consider starting my own family with Isobel, that I understand the significance of my birth. IVF was ground-breaking back then, but so many people go through it now.
"What's most reassuring to know is that there is help for people who need it to have a family. Help that actually works. From people who really care. I'm living proof of it, and I'll never stop being grateful to everyone at Manchester Fertility who helped my Mum and Dad all those years ago. They were willing to take the chance that IVF just might work."
Last updated: 29th February 2016