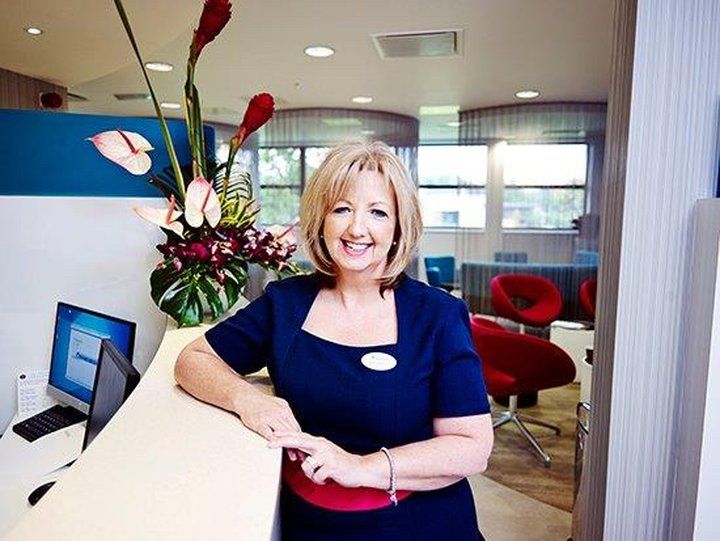 As one of the first friendly faces you will meet when you come for treatment at our clinic, everyone knows our Head Receptionist, Rita Dixon.
But what you might not know is just how long she has been supporting our patients – or that she's just about to celebrate her 60th birthday!
In a special blog, Rita shares her experiences and explains just why she loves being part of the Manchester Fertility family:
How long have you been with Manchester Fertility?
I originally started in administration, over 10 years ago! I was never meant to be on reception, but one day I filled in to cover on the front desk and never looked back. I just love being here to meet and greet our patients. It's our patients that make this work so special – and meeting and cuddling our new babies of course!
Why do you think that the work of a receptionist is so important on the fertility journey?
Many of our patients are nervous when they first come in, as a receptionist you are the first person they will meet. So it's vital to be able to put them at ease from the minute they walk in.
I like to think that we give people a 'virtual hug' on reception, it's our job to make sure you feel comfortable. You are going to be spending a lot of time in our clinic, so this is really essential. We always take the time to get to know you, so you feel right at home every time you come in.
What are the most important skills you need to have as a receptionist in the fertility field?
Good organisational skills are a given. But what's more important is that you have a compassionate nature and the ability to really listen, so you can ensure patients get the reassurance, care and advice that they need.
Working in IVF and fertility involves a lot of emotional ups and downs. We really are invested in your journey and your treatment, so every outcome affects us as a team. Our patients are like family to us, and I think that's one of the biggest differences when it comes to our clinic. We are always here to help - if there is something on your mind, then it matters to us.
What is the best part of working in fertility for you?
Every family and baby we help to create is special, so I feel really lucky to be involved in just a small way. What is so wonderful is that so many of our patients bring their babies in to see us after successful treatment. And take the time to keep in touch with us, even over the years as their babies grow, because we are a part of their family's story. We love seeing people's pictures and comments on our social media!
Describe your typical day?
I always start my day with coffee! And I like to be here early. I usually get here for 6.45am so we're prepared and ready to welcome patients. We are open from early morning so patients can come in before work, it's all about making this journey as easy and convenient as possible.
I check the day's diary and prepare the daily sheets, and make sure that our reception is inviting. Then it's all about welcoming patients and answering any queries on the phone, directing patients to the right person and clinic department so they can quickly get the information or advice that they need. 
What about outside of clinic life? What do you like to do?
I'm a family person – I love spending time with my family and friends. Family time and laughter are my favourite pastimes! And I always organise the Manchester Fertility Pretty Mudder Race for Life every year, which is great because it brings us all together outside of the clinic. This year there were 30 of us that did it for charity!
And how will you celebrate your milestone 60th birthday this month?
I have lots of family meals planned – and of course a night out with the Manchester Fertility team. Because after 10 years, our team is like my second family!
Get to know the Manchester Fertility team: Book a free 1-2-1
If you are considering fertility treatment, come and meet the Manchester Fertility team and learn about your options at a free 1-2-1.
Your free 1-2-1 is an informal appointment with a Patient Advisor where you can explore all our fertility treatments, tour our clinic and learn more about us and how we can help you have a family.
Book your 1-2-1 online or call us on 0161 300 2737.You can also meet some of our families and learn about their treatment experience with us on our Testimonials page.
Last updated: 8th August 2019