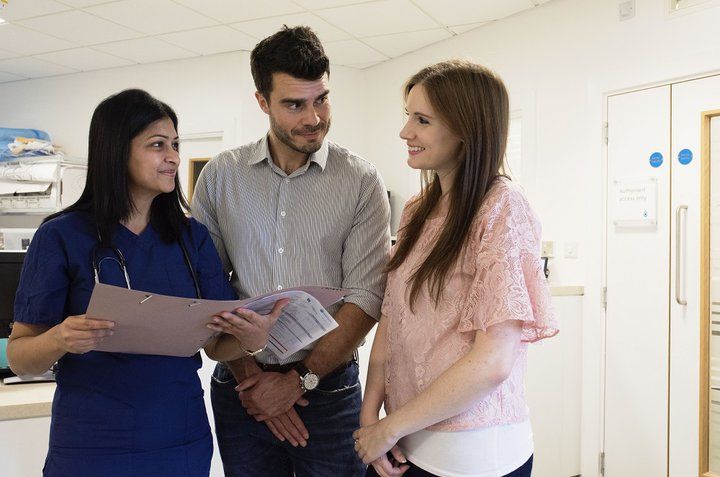 Patient-centred care is a term that's becoming ever popular, especially in the world of private health care. But what is patient-centred care? And what does it mean to put patients first for the team here at Manchester Fertility? 
How Do We Put Our Patients First? 
Fertility treatment is, by nature, a sensitive subject. It's entirely natural for anxiety to accompany the treatment process. To us, prioritising our patients means many things. Our patients are at the heart of everything that we do. We provide a patient-focused approach as every person is unique. Each individual has a personalised treatment plan created by our expert teams.
We are always honest and transparent about our treatment options and prices, so we don't have any hidden costs. In this blog, you can discover more about how we deliver patient-focused treatment and transparent pricing from the first step of your journey until you're ready to leave our care.
Transparent Pricing
Many patients choose Manchester Fertility not only because of our excellent patient reviews and awards, but because we offer complete transparency on the cost of treatment.  Fertility treatments can vary in price; each clinic will have its own policy regarding how it advertises costs.
At Manchester Fertility, we're invested in ensuring you have the best possible experience, which means we offer up-front pricing that won't change once your treatment begins. We want to give patients the best chance of having a baby. That's why, included in your treatment package cost, are aspects of treatment that our team thinks are essential to maximise your success, such as Embryoscope, EmbryoGlue, and Blastocyst (where possible).
If you're interested in learning more about how much fertility treatment might cost, check our price list today.  You will see our all aspects of your treatment set out in a clear manner, from what's included in our base price, and what may be additional for treatment.
5-Star HFEA Inspection Rating
We value our patients, and as such, we hold ourselves to a high standard. One of the main ways we show this is through the quality of care our patients receive. We have a 5-Star inspection rating from HFEA, the Human Fertilisation & Embryology Authority.
We have also been recognised for our outstanding care and hold awards for Best Fertility Clinic – North West England and a Patient Care Excellence Award – Cheshire, awarded by Corporate Vision magazine. Discover more about our awards on our blog or visit our HFEA profile here.
As we're always striving to improve, we encourage our patients to give us honest and open feedback. We couldn't do what we're passionate about without the support of people like you. We're grateful to receive such lovely feedback, like the comments given below from our lovely patients, Amy and Colleen, and Lauren and Aaron. These are just a few patient stories; you can access more by watching our video.
"We have truly never been happier, and now our family is complete. Again, thank you ever so much for all the care and support. Fantastic clinic, with amazing people!"
- Amy and Colleen
"I just wanted to say a massive thank you to all the staff at Manchester fertility. From the first moment we came in we had nothing but help and support."
- Lauren & Aaron
Open Communication 
If you trust us with your treatment, we'd like you to feel you have the support you need. All patients at Manchester Fertility gain access to our easy-to-use patient app, which can be used to communicate directly with our team through message or video calls, receive documents, and track your treatment. 
Fertility Counselling or Coaching
We also endeavour to provide each patient with as much emotional support as they need, with personalised and tailored fertility counselling made available by a member of our expert team. Family and friends can be an excellent source of comfort for some people.
However, some patients find it helpful to get extra support from a counsellor who has direct experience of their situation. We would always recommend counselling for all of our patients, and this service is mandatory if you are having treatment with donor gametes and for egg or sperm donors. 
Alternative Therapy
Many fertility patients find complementary therapy beneficial to their health and well-being during treatment. We can help you find alternative therapy options, such as acupuncture and reflexology. Not everyone wishes to explore alternative therapy, but the process can suit those who are looking for a more holistic approach to their fertility journey or those who struggle with anxiety. 
Access to our Fertility Support Group
Our fertility support group allows you to connect to other patients who may be experiencing the same concerns as you. You can choose to share your story, learn from others or find support. We also have a closed Facebook group so that patients can talk with each other, sharing experiences, concerns, emotions and anxieties, which the aim of helping each other through your fertility journeys.
Our Purpose-built Clinic
Our bespoke purpose-built clinic has been designed to create a welcoming and calming environment for our patients. From the warm, welcoming reception area and consulting rooms to our innovative laboratories, each area of our clinic ensures a safe and comfortable space for staff and patients. We also have a large private car park with free parking. In addition, we recently improved our car park facilities, which now includes electric charge points for patients with electric or hybrid vehicles.
For many people, we understand that this is the first step of a very exciting journey. When it comes to choosing who shall provide your care, it is a deeply personal choice. As such, we believe in making a fully informed decision. We encourage you to research alternative clinics so you're positive you're making a well-informed decision. Rest assured, if you choose Manchester Fertility you will receive quality and compassionate care and will have the reassurance that our team will always be here to offer support, as well as accurately represented costs.
If you're planning to start your own family with the help of fertility treatment or wish to understand your options for conceiving with a fertility assessment, contact our new patient team on 0161 300 2737, or book an initial consultation using our online booking service.
Last updated: 2nd September 2022