Happy World Embryologists Day
Today (25th July) is the birthday of Louise Brown, the first baby to be conceived through IVF back in 1978. This is also a day which is annually celebrated as World Embryologists Day. IVF is a ray of hope for people with fertility issues who dream of having a family, so we would like you to join us in celebrating today and remembering its significance in reproductive medicine history.
Our Team of Expert Embryologists at Manchester Fertility
At Manchester Fertility, we have eight expert Embryologists and are proud of their dedication and commitment in helping many patients become parents. Debbie Falconer is Manchester Fertility's Managing Director (joint) and Lead Embryologist. She helped set up Manchester Fertility when it first opened in 1986 and was a key member of the team that welcomed our first Manchester Fertility baby, Philip Hood, born in April 1987. Meet our full team here.
We often get asked questions about Embryologists and the work that they do. So, we sat down with Lydia Ruddick to see what a day in the life of an Embryologist looks like and give you the insight into what goes on in our lab on a busy magical day.
A Day in The Life with Lydia Ruddick – Manchester Fertility Expert Embryologist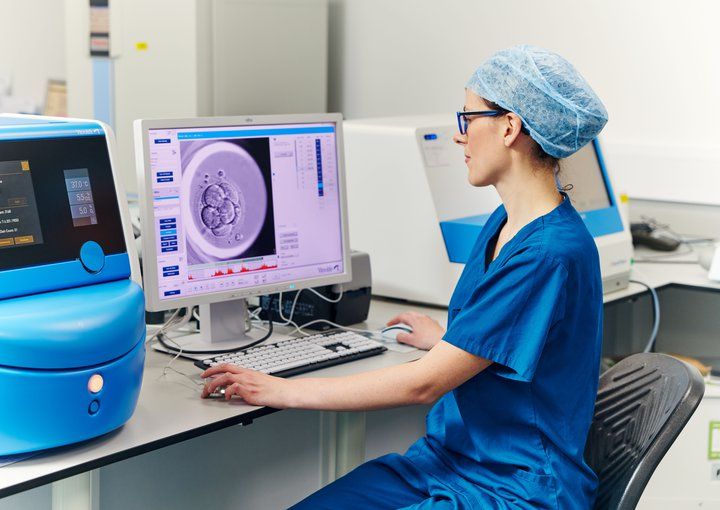 About Me
I've worked as an Embryologist at Manchester Fertility for the last four years. It's a very rewarding career because you apply some really specialist skills and knowledge to hopefully make a real change to people's lives. My previous studies have included a degree in Genetics from the University of Cambridge and the three-year NHS Scientist Training Programme. This covers all the knowledge and laboratory skills essential to become an Embryologist, and enabled me to register with the Health and Care Professions Council.
My Day starts at 6.30am
My day starts at 6:30am with coffee and breakfast, then a quick dog walk. I usually cycle into work and change into my scrubs ready to open up the lab for 8am. We start the day by checking the temperatures of all our equipment and making sure that everything is ready for us to handle eggs and embryos safely.
My first task is to check the eggs from the day before to see if they have fertilised. The embryos are in our time-lapse incubators, the EmbryoScopes. So I can to review an overnight video of each embryos while they remain safe in their stable environment inside the incubator. I then phone the patients to give them details of how many embryos they have and answer any important questions.
Once this is done I check the embryos for that day's embryo transfer, again using the EmbryoScope. For day 5 embryos (blastocysts) we assess the size and then assign a grade for each part of the blastocyst based on their appearance. The EmbryoScope also generates a score, and allows us to review each embryo's whole period of development for any unusual behaviour. It feels very special being able to watch from the first signs of fertilisation through to blastocyst formation, contemplating how something so tiny can have so much potential.
Once I've graded the embryos and chosen which are suitable for transfer and cryopreservation (freezing), I will contact each patient to confirm details for their transfer. I then use a pipette to carefully move the chosen embryo into a new dish containing EmbryoGlue. (EmbryoGlue is not an actual glue, but it acts like glue by increasing the chance of implantation of the embryo to the womb).
At 11:00am
It's time for the embryo transfer. This is one of my favourite procedures as it's an exciting time; after five days of waiting (and of course often months or years before that) the patient can see their embryo for the first time. I've heard some nice embryo nicknames, and lots of jokes from patients that their embryos look like their dads.
The doctor and I use our electronic witnessing system to confirm we have both checked the correct dish is ready. As well as our manual checks, every dish in the laboratory is electronically tagged, so the system would alarm and stop any potential error at any stage. When the patient and doctor are ready I load the embryo into a fine plastic catheter and quickly hand it to the doctor, ensuring it spends minimum time exposed to room temperature. After a minute or so the embryo has been replaced into the patient's uterus and I perform a final check that the catheter is clear.
Meanwhile my colleagues have been performing egg collections, preparing frozen embryos for transfer, and preparing the partner and donor sperm samples for treatments. The lab can feel quite busy in the mornings, especially because some procedures like egg freezing are really time critical. Luckily, I have a great group of colleagues. We're all really close and have lots of strategies for working effectively as a team and ensuring everything runs to time, something I definitely appreciate on busy days.
At 12:00 noon
In the afternoon our jobs include Intracytoplasmic Sperm Injection (ICSI). This involves injecting a single sperm into each mature egg. We'll also rapidly cool suitable embryos, a process known as vitrification, and load them on to a tiny plastic device for storage in liquid nitrogen.
We have regular case meetings, visiting speakers and journal clubs, ensuring we're aware of any new developments in the field that can further help our patients. There's often news of positive pregnancy tests or baby photos being shared around. There's a brilliant sense of shared celebration hearing these updates after all our hard work and you can really see the love everyone has for their job - we are one big team.
We'll also catch up on our own side projects and any patient call requests and messages through our Salve app. Although we can't always come to the phone immediately we're always happy to make time to discuss a patient's embryos.
By 4pm
We're closing up the laboratory, making sure everything is clean and performing all of the temperature checks again ready for another busy day.
End of Day
At home I try to get outside as much as possible to unwind; running, growing vegetables, camping with friends and hiking with my girlfriend and our puppy. I do find myself thinking about certain cases, especially if someone only has a small number of embryos or has had a particularly difficult fertility journey. But hearing positive news from patients and knowing I had even a small part in that is the best feeling, I can't imagine doing anything else.
Last updated: 25th July 2020