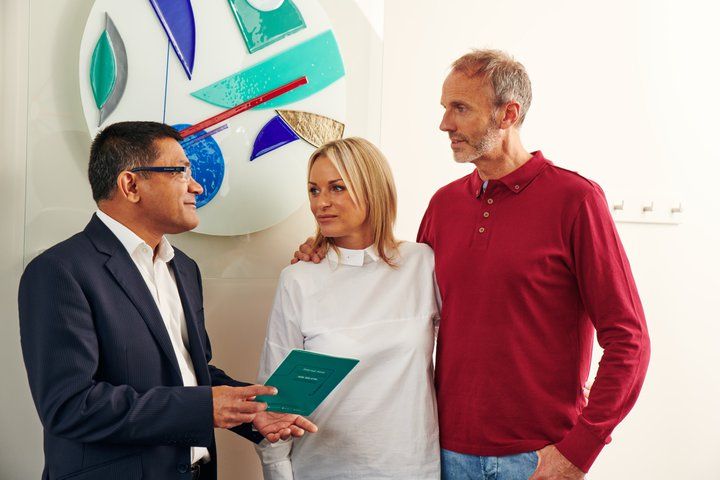 Did you know that you can have fertility treatment using both an egg and a sperm donor?
This is commonly known as 'double donation' treatment and may be the best way forward to a family if you are an older female couple or single woman, or if both male and female partners are affected by fertility issues.
Double donation treatment: How it works
Using an egg and a sperm donor to try for a family is focused on preparing your body for pregnancy, so the best quality embryo is transferred at exactly the right time for implantation.
The difference is that instead of donor eggs being fertilised with partner sperm, they are fertilised with the highest quality donor sperm from our UK sperm bank - Semovo.
Embryos are then monitored in our laboratory as they grow, with the best quality embryo selected for transfer.
Any remaining good quality embryos can be frozen and stored for future use. You can have treatment with us up to the age of 50.
Double donation: Decisions to make
If you wish to use an egg and a sperm donor, you will have a number of decisions you need to make, including:
Whether to have treatment with frozen or fresh donor eggs. We have both fresh and frozen UK donor eggs ready for your treatment.  Frozen donor eggs from our frozen egg bank are a quicker treatment path and a cost-effective donor option.
The characteristics you are looking for in your ideal egg and sperm donor. We have an extensive choice of UK sperm and egg donors immediately available, from our own successful egg and sperm donor programmes.
How to fund your treatment. We offer multicycle packages for treatment with either fresh or frozen donor eggs, which include the use of donor sperm.
Our dedicated Donation Team will provide you with all the support you need to help you make these crucial treatment decisions.
Specialising in the unique needs of patients who need donors to have a family, our Donation Team will give you all the support, information and guidance that you need throughout the entire treatment process.
The team co-ordinates your appointments, helps to plan your journey and provides essential advice when choosing your sperm and egg donor, providing a personal matching service to help you choose your donor.
Double donation IVF & counselling
Counselling support is a vital and a mandatory part of treatment when using sperm or egg donors, and it is especially valuable if you need double donors to conceive.
Counselling happens before any treatment takes place, so you can discuss in private with our fertility counsellors all the implications of donor treatment.
This includes how you feel about using donors and future factors, such as how and when to tell your child about their biological origins.
Because all our UK sperm and egg donors are traceable and complete detailed donor profiles including a goodwill message, you have the reassurance that when the right time comes, you will be able to give your child some personal information about their donors. And the opportunity to trace them via the HFEA when they turn 18, if they wish to.
Double donation treatment: How to get started
If you wish to enquire about treatment with donor eggs and donor sperm, get in touch with our Donation Team on 0161 300 2737. Or book online, where you can arrange a free private 1-2-1 with our team to talk through your treatment, donor and funding options.
We do not have a waiting list for double donation treatment which means you can start treatment as soon as you are ready.
Last updated: 29th August 2019