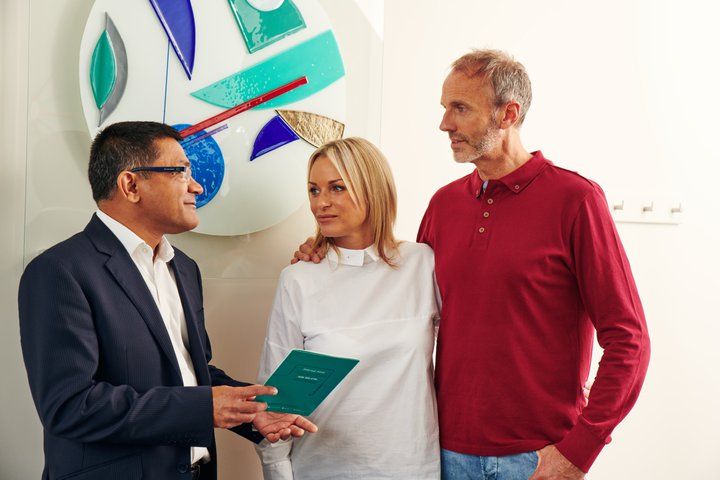 In your 40s but want to have a baby? We have helped many couples and single women to have a family up to the age of 50, using their own eggs or donor eggs and are hoping to start or extend their families later in life.
Here's a quick overview of the different ways we can help you to have a baby when you're over 40:
IVF with own eggs
You might assume that donor eggs are your only option in your 40s – but this may not be the case for you, as everyone's fertility is different.
We'll assess your fertility and your ovarian reserve to see what your chances are of successful IVF using your own eggs.
We can also combine IVF with embryo genetic testing to help you conceive. There is a higher risk in older women of producing abnormal embryos and we can perform Preimplantation Genetic Screening to assess if your embryos have the right chromosome numbers before transfer.
Take a look at our success rates for women using their own eggs here – almost half of women aged 40-42 using frozen embryos achieve pregnancy with us.
IVF with donor eggs
If your best chance of a baby is to use donor eggs – which may be the case if you're in your mid to late 40s - you don't need to worry about waiting for an egg donor. We have fresh and frozen UK donor eggs immediately available for your treatment from our own UK egg bank.
Our Donation Team provides a personal egg donor matching service to help you find your ideal donor from our own donor bank, and you'll be fully supported every step of the way. All our egg donors are healthy young women aged 18-35, who are fully identifiable to your child in future.
You'll also have a great chance of successful treatment. At Manchester Fertility, our current fresh donor egg pregnancy rates are 65% for women aged 40-44 and 71% for women above 45.
Treatments for older single women
If you're a single older woman you can have IVF with your own eggs or donor eggs and use a sperm donor too.
We can offer you the widest choice of sperm donors from right across the UK for your treatment, from our own nationwide Semovo sperm bank. All our sperm donors have passed strict health screening and a sperm check for sperm quality, and are fully traceable to your child in future.
Start your family today
Find out more about your treatment options at Manchester Fertility. Talk to our New PatientCo-ordinatorswho are here to give you all the information you need – whether it's information about treatment types, funding packages or the range of patient support services we have available for you. You can call the team on 0161 300 2737 to help get you started.
Or you can  book a free 1-2-1, which isa non-medical appointment where you can explore treatment with us, tour our clinic and get to know a little bit more about our personal approach to your fertility care. 
Last updated: 31st January 2020