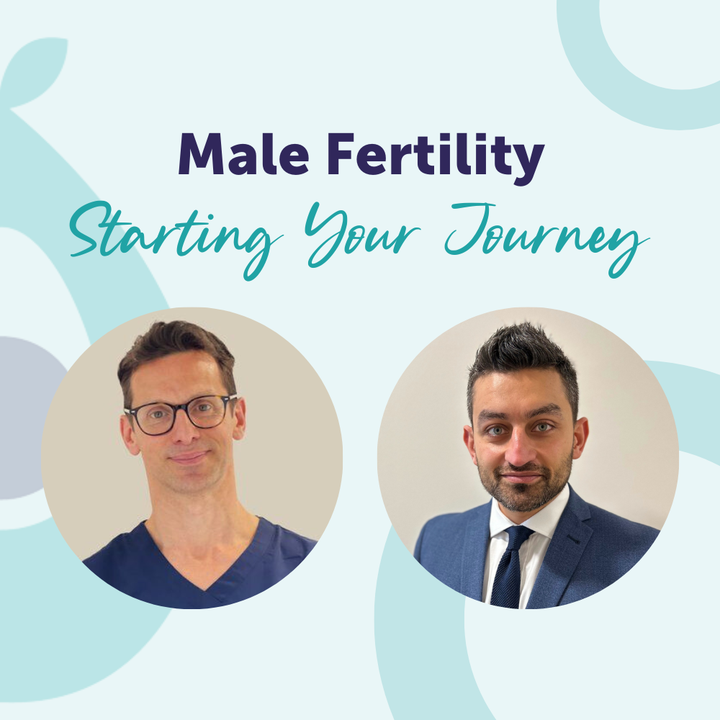 When fertility is discussed, it almost always concerns women. Everyone is familiar with references to women's 'biological clocks', but with 1 in 7 heterosexual couples in the UK unable to conceive after more than a year of unprotected sex, would you be surprised to know that in 50% of cases, there are fertility issues that are related to the male partner?
Knowing this, we want to educate men, and those assigned male at birth (AMAB), to take control of their fertility, learn more about the most common causes of male infertility, and talk about one of the most taboo subjects in medicine.
How do I know if I have a male fertility issue? 
A fertility assessment is often the first stage of a patient's journey with Manchester Fertility®. If you have been struggling to conceive, or are simply concerned about your fertility, fertility testing with us will provide valuable insight and, in some cases, alleviate apprehension. Our fertility assessments are available to single men, AMAB people, heterosexual couples, and same-sex male couples. 
If you have been having regular unprotected sex with a partner for more than a year without success, you may already have concerns. There are often no symptoms related to problems with sperm production. However, symptoms that need further evaluation include: 
Issues with getting and maintaining an erection 
Difficulty ejaculating or a change in the consistency of semen 
Pain or swelling in the testicles
Changes in sexual desire
What should my first step be? 
If you are concerned about your fertility or sexual health, a fertility assessment will be the first step on your fertility journey. A male fertility assessment involves a semen analysis, a sperm health check and a final consultation with a male fertility expert who can discuss the implications of your results with you. Urological Surgeon and Andrologist, Mr Vaibhav Modgil, says: 
"A lot of the issues men present with can feel embarrassing. Not only that, some of these issues unfortunately still have a stigma attached to them. Being able to speak to them about their conditions, and hopefully treat them, and reinstate that confidence is satisfying. The first step is getting a full picture of their sexual and reproductive health through a fertility assessment."
What is the process of a male fertility assessment? 
The process begins with a semen analysis. We collect a sample of your sperm and look at certain important parameters, such as: 
Sperm shape - looking at the head, midsection and tail, we analyse how the shape might affect the sperm's ability to break through the wall of the egg 
Sperm movement, or motility, tells us how well your sperm moves. 
Overall sperm count, as the density, varies from person to person on a day-to-day basis. 
The volume and pH level of your semen, ensuring it is within the normal range
By the final stages of your screening process, you will have undergone a semen analysis, an ultrasound scan, and a physical examination. At this point, we can advise you on how best to adjust your lifestyle to improve sperm health. Blood tests may be indicated depending on these results.
Finally, we'll discuss your results at a consultation with one of our male fertility specialists. They'll answer any questions you may have and outline your next steps. Further tests or treatments may be recommended to improve fertility or retrieve sperm. Whatever the outcome of your fertility assessment, our expert team is adequately prepared to help our patients, no matter the outcome of their assessment. 
Your specialist male reproductive health consultant will advise on the best option for you as part of your personalised treatment plan. They will also discuss other factors affecting your ability to conceive, such as age, lifestyle and general health.
What are some common causes of male infertility? 
If you have any concerns regarding your fertility, our team of male reproductive health specialists will be more than happy to help diagnose the cause and support you through the next steps of your treatment.
You may be diagnosed with a sperm disorder, which is by far the most commonly diagnosed cause of male infertility, followed by structural problems. Sometimes we cannot find a reason for male infertility, which we usually categorise as unexplained infertility. A sperm disorder could be caused by a diverse range of reasons, such as:
A varicose vein (called a varicocele)
Prescribed medications
Previous chemotherapy
Recreational drugs (cannabis, cocaine),
Smoking or excessive alcohol intake
Hormonal imbalances (thyroid/ prolactin)
Previous testicular infection, injury or surgery
Raised scrotal temperatures, including varicoceles or recent febrile illness
Genetic problems
Male reproductive health specialist, Mr Steve Bromage, had this to say on correctable causes of male infertility:
"One of the commonest correctable causes for male infertility is a varicocele. These often cause no symptoms and can be missed unless properly examined by a male fertility expert. There are many men that I have seen who have undergone IVF treatment with their partner who could have had sperm production improved by varicocele treatment and may have conceived naturally following this or had better chances of success with IVF."
Obstruction to the flow of sperm can cause infertility and may be due to infection, surgery, injury or genetic concerns. This includes patients who were born with blocked ducts or missing tubes.
If you are assigned male at birth (AMAB) and have transitioned, or are planning to transition, hormone replacement therapy and genetic affirmation surgery can affect the quality of your sperm. In this case, you can store sperm cryogenically, often called sperm freezing, for future fertility treatments or peace of mind before proceeding. 
Will changing my lifestyle improve my sperm health?
Sometimes, your sperm health can be improved if poor lifestyle choices have had an impact. Male reproductive health specialist, Mr Vaibhav Modgil, had this advice for those looking to improve their sperm health: 
"If you have a low sperm count because of your lifestyle, the first steps are to wear loose-fitting trousers and boxer shorts, stop smoking, reduce your alcohol intake, avoid using gym supplements and maintain a healthy weight and diet to maximise your fertility. 
If you work from home, you should also avoid leaving your laptop on your knee or in your lap, try not to carry your mobile phone in your trouser pocket, avoid long soaks in a hot bath, sauna or steam room, and do not use a seat heater in your car because increased temperatures can affect the production of your sperm."
Although improving lifestyle factors often positively impact sperm production, in some cases, good quality sperm is still not seen in the ejaculate. In these cases, your male reproductive health consultant may suggest alternate methods of retrieving your sperm, such as surgical sperm retrieval (SSR). During this operation, the sperm is surgically retrieved from the testicles or epididymis.
What should I do next?
Male fertility issues can often feel intimidating and embarrassing to discuss, especially with a stranger. However, rest assured, our specialist team is here to help you every step of the way. We have two leading specialists in male reproductive health in the North West, Mr Vaibhav Modgil and Mr Steve Bromage.
If you're having issues or are concerned about your fertility, arrange a consultation for a fertility assessment today. Or if you'd like more information on our specialist clinics, experienced team or treatment offer, book a free, no obligation 1-2-1 discovery appointment with a member of our New Patient Team by our online booking system or by contacting the clinic directly on 0161 300 2737.
Last updated: 3rd May 2023