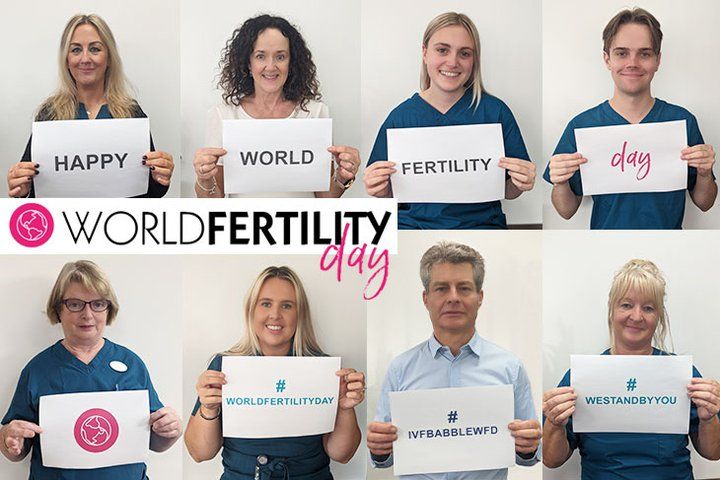 World Fertility Day
Online magazine support network IVFbabble is hosting the third annual World Fertility Day today (2 November) to kick off Fertility Week.
Fertility Week is an annual event that shines a light on issues that affect around one in six couples in the UK and around 50 million people worldwide.
World Fertility Day celebrates anyone on their journey to parenthood. It is a national event to help raise awareness of fertility issues, offer support, and reduce the stigma around fertility problems. It's a time to challenge the perceptions and stereotypes around fertility that can sometimes lead to feelings of isolation and upset.
Take part in World Fertility Day
The event is usually hosted at the London Fertility Show with input from around the world. This year, however, it will be marked virtually by IVFbabble, and Fertility Network UK. You can join in the global conversation on social media by looking out for the hashtags #WorldFertilityDay #IVFbabbleWFD #WestandbyyouonWFD and #YouAreNotAlone or share your own experiences with the hashtag #breakthesilenceoffertility to help break down the taboos around fertility issues.
This is a day to stand strong, to offer support to one another andshow that we are not embarrassed or ashamed by fertility issues.  There are millions of us worldwide who have either fought or who are fighting to become parents. So why not help us all come together as a community to mark this important day in the fertility calendar and show our support.
Fertility Week
During Fertility Week itself - also organised by IVFbabble and Fertility Network UK - there's a full programme of events and activities to raise awareness and provide support for those experiencing fertility problems.
The big message this year is to remember that you're not alone in your experiences. Advice and support is available from our team of experts that have helped many patients realise their dream of becoming parents over the last 30 years.
What's going on during Fertility Week 2020?
Each day of Fertility Week has its own theme:
Monday, November 2nd will explore fertility inequalities and mark the launch of a campaign for fair access to fertility treatments. There are differences in the provision of fertility treatments around the UK, and in terms of who has access to services - the campaign will call for fairness for everyone who needs treatment.
Tuesday's theme is Mental Health Matters, which will look at how fertility issues have an impact on individuals' and couples' mental health. Over the day, experts will share self-care tips, and those affected by fertility issues will tell their stories.
On Wednesday, male fertility and its implications will come into focus. Men will share their experiences of fertility issues, and experts will provide advice and information as part of a broader call for more tailored fertility support for men.
Thursday is education day, covering various topics, including lifestyle factors that may affect fertility. There will also be a focus on the need for better education of fertility issues and the associated implications - especially among healthcare professionals and the workplace.
Look out for all the hashtags #WorldFertilityDay #IVFbabbleWFD #WestandbyyouonWFD and #YouAreNotAlone.
Manchester Fertility is here for you
With more than 30 years' experience supporting individuals and couples with fertility issues, our Manchester Fertility team understands the impact it can have on everyone involved.
Fertility issues can have extensive effects on mental health, too. Raising awareness of fertility, talking about experiences, and sharing advice during Fertility Week can help break down the stigma around infertility and ensure everyone feels supported.
Both men and women can be affected by fertility issues and may need extra support to fulfil their dreams of starting a family. If you're worried about your fertility, don't suffer in silence - seek help soon, and you could discover that there are a number of options available to help you get you started on your journey.
Manchester Fertility offers advice and support with compassion - we understand that every person's fertility journey is different. If you'd like to find out more about your fertility, our fertility assessments can help you get started. You can talk to our New Patient Team of experts by calling us on 0161 300 2737 or send us an email at enquiries@manchesterfertility.com.
Last updated: 2nd November 2020