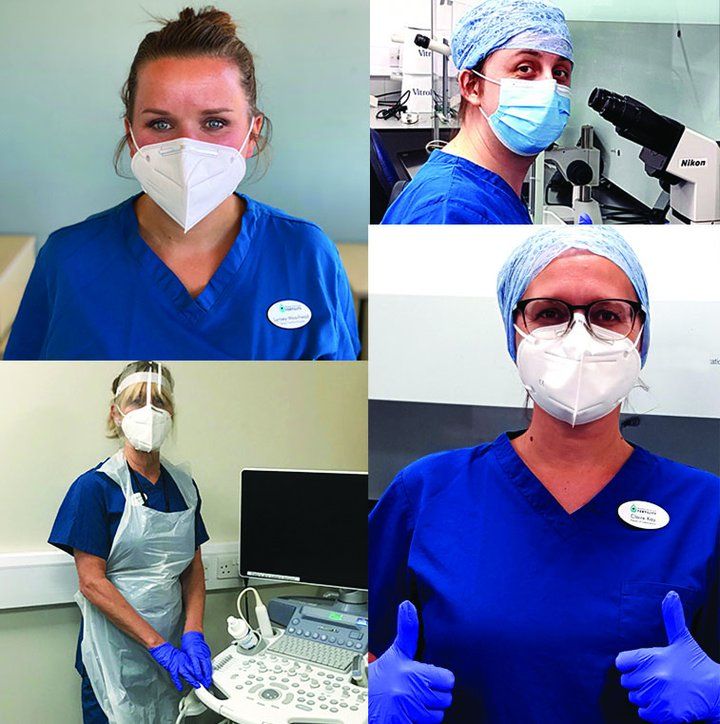 As one of the first clinics in England to be granted permission to recommence fertility treatments again, our team were delighted to recently carry out their first egg collection since reopening.
We understand that it has been a difficult time for patients who have had to suspend or delay their treatment and are so pleased to be able to help patients to achieve their dreams again.
Whilst we are welcoming patients back into the clinic, we have worked hard to ensure that everyone is kept safe and receives the calm, supportive and reassuring experience they are used to.
So, what can you expect when you start treatment with Manchester Fertility?
First of all, a warm welcome and the knowledge that you have an expert team of fertility specialists looking after you at every stage of your journey.
We have done everything possible to ensure the clinic is a safe place. This means we are operating a bit differently to before but are still ensuring patients receive the highest standards of care.
How is the clinic operating differently?
Manchester Fertility was designed with input from the clinical team to ensure that, when it was built, it offered the best environment for patients. Our purpose built clinic therefore has a large private car park and plenty of space for social distancing.
The first difference you will notice is that you will be asked to call a dedicated telephone number to let us know when you have arrived and are in the car park. We will then inform you when to enter the clinic and give you a warm welcome. This measure helps us to stagger when patients enter and leave the building to ensure everyone is social distancing.
When you enter the clinic you will be asked to sanitise your hands and given a mask to wear.  We will also take your temperature.  If your temperature is normal, you will then be taken to your appointment using a one way system which is operating within the clinic. Everyone who enters the clinic will have their temperature checked and will wear a face mask, including colleagues.
We have also made the decision that only the patient undergoing treatment can come into the clinic, unless attending for a pregnancy scan.  We really understand that this may be difficult for some patients but took this decision to minimise any risk and to ensure we can carry out strict social distancing.
We have also spaced out appointment times to ensure the minimum number of patients are in the clinic at any one time.  We still want to help and support as many patients as possible though so have extended our opening hours.
Our team
We really pride ourselves on our people, and our colleagues are working hard to ensure our patients receive the best care possible.
Every single colleague has undergone extra infection training, specifically for Covid-19, and is wearing necessary PPE. We have also introduced extra cleaning regimes, paying particular attention to hand rails, door handles and areas with a high touch point. Hand-sanitiser gel is also available at multiple points around the clinic.
Throughout this unprecedented time we have continued to ensure we can offer virtual appointments to our patients. We are continuing to provide all appointments via video or telephone with our Fertility Consultants and New Patient Team, where appropriate, to save you from coming into the clinic.
We are all dedicated to looking after our patients' wellbeing and look forward to helping more people to be able to start their journey to having a family.
Thank you to all of our patients who have started their journey with us again for all of the lovely and positive comments we have had so far. We promise to continue to ensure we provide these high standards and offer every single patient the best care possible.
You can read more about the steps we have taken and procedures we have put in place to keep you safe on our dedicated Coronavirus information page – just click here.
If you have any questions or would like advice before starting treatment at Manchester Fertility you can call our New Patient Team on 0161 300 2737 who are happy to talk through any concerns.
Last updated: 12th June 2020