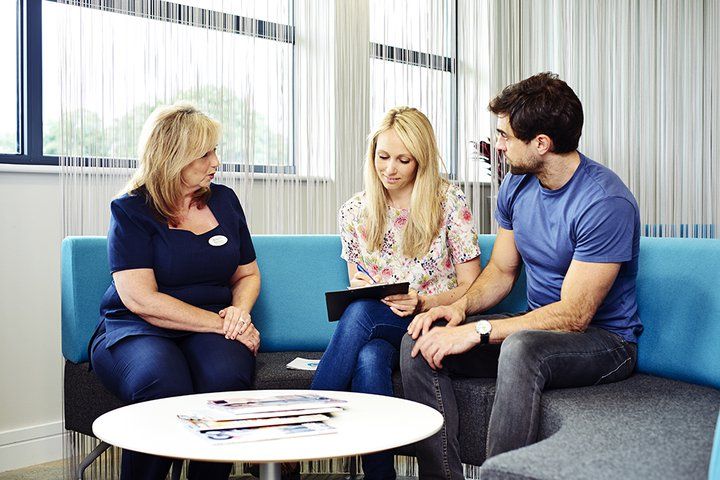 IVF is one of the most common treatments for infertility. Almost 68,000 cycles are carried out in the UK every year according to HFEA data, a number that's growing year-on-year as increasing numbers of couples turn to IVF to have a baby.
At Manchester Fertility we've been at the forefront of IVF treatment for over 30 years, using our expertise to help people struggling to conceive when IVF was a breakthrough way to overcome infertility.
Technologies and techniques have advanced since then to make IVF one of the most successful treatments in the world. But for those who need IVF, it's still a new and daunting journey – one that carries a lot of questions for those just starting out.
Here are the top five IVF FAQs our Patient Advisors are asked by the many couples we welcome into our clinic:
How many IVF cycles will I need?
The number of cycles needed to achieve pregnancy – by this we mean a confirmed clinical pregnancy with foetal heartbeat and not just a positive pregnancy test – varies from patient to patient. Some couples are successful on their first IVF attempt; others may need more than one cycle to have a baby.
It's important to remember that your IVF journey is unique to you. What has worked for one couple may not work for you. It's why we take an individual approach to your IVF treatment, starting with your initial investigations. Although the treatment process itself is the same, there's actually no such thing as a standard IVF cycle at Manchester Fertility. Your IVF treatment is tailored exactly to you, to give the highest chance of success.
What are my honest chances of success?
There are a lot of factors that influence your likely chances of IVF success. These include your age and age of your partner at the time of treatment, the quality and quantity of your eggs and sperm and how many eggs fertilise and reach the right stage for transfer.
All of these factors - combined with the results of your initial fertility investigations, medical history and diagnosis - will give us an accurate indication of the treatment path that will work best for you.
It could be that ICSI would be a better option for you, where a single healthy sperm is injected into the egg, or we may advise that you transfer more than one embryo.
We also examine which of our IVF innovations and techniques could benefit your prognosis, including EmbryoScope time-lapse monitoring, pre-cycle Endometrial Scratching or Blastocyst transfer.
Your Manchester Fertility consultant will always be open and honest with you about your chances of success, only recommending treatments and additional techniques that have a positive affect on your individual outcome.
Is there anything we can do ourselves to increase our chances of IVF pregnancy?
Your personal health and lifestyle can impact on your chances of IVF success. Having a high BMI and being overweight, excessive alcohol and tobacco intake are all factors that affect the fertility of both men and women.
We always advise all of our patients to ensure they are the healthiest they can be before embarking upon any fertility treatment. So you may need to make some lifestyle changes before considering IVF.
If you need professional support to get healthy, our Consultant Nutritionist Jeannette Jackson offers private consultations in diet and nutrition specifically for fertility and IVF, including tailored plans and dietary analysis. We also offer holistic therapy in the form of Acupuncture for IVF.
Do you offer any alternatives to conventional IVF?
One of the newest IVF techniques we offer is Modified Natural Cycle IVF. Also known as 'mild' or 'light' IVF, it's a form of IVF that uses lower doses of fertility drugs than conventional IVF.
This form of IVF isn't suitable for every patient however. It's not as successful as conventional IVF, and may require repeated cycles to achieve pregnancy. We'll advise you if Modified Natural Cycle IVF is an option you can consider.
How much does IVF cost?
Costs per cycle differ from patient-to-patient simply because of the individual nature of each treatment path. We understand that many people who need IVF are concerned about the financial implications of private treatment, particularly if more than one cycle is needed.
It's why we partnered with Access Fertility as the UK launch clinic for their pre-paid, discounted IVF plans. Through these plans, you receive multiple cycles of treatment and even have the option of a full, 100% money-back guarantee if you don't have a baby.
IVF questions? Book in with a Patient Advisor
Would you like your own, free private session with a Patient Advisor? Our one-to-one appointments are an informal way to find out more about IVF and how we can help you have a baby, with no obligation. Book your IVF one-to-one on 0161 300 2737, or apply here and we'll get back to you.
Last updated: 6th October 2016