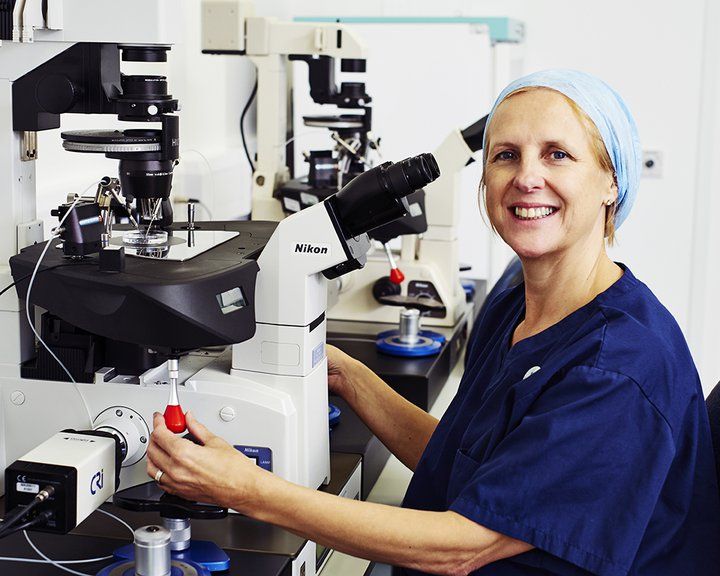 Are you worried about the potential risk of IVF side-effects such as Ovarian Hyperstimulation Syndrome (OHSS)?
At Manchester Fertility, our approach to IVF minimises your risk of side-effects just as effectively as 'mild' or 'Natural' forms of IVF, which some clinics now offer as a 'safer' and more 'natural' alternative to conventional IVF treatment.
But are these forms of IVF really the right option for you? And how much of a risk is OHSS when you have IVF with us?
Traditional IVF: Minimising complications at Manchester Fertility
At Manchester Fertility our IVF treatment focuses on the quality – not the quantity – of your eggs to help prevent complications without compromising your chances of pregnancy.
We do not prescribe high stimulation protocols to make you produce large numbers of eggs. OHSS happens when your ovaries 'over respond' to fertility medications, and high stimulation protocols are a major cause of the condition which although rare, can have serious health complications for you.
We prevent OHSS from happening by only providing tailored, fertility drug protocols bespoke to you, using the minimal dose to ensure you safely produce quality eggs to fertilise.
This approach – combined with our careful monitoring of you throughout stimulation phase – is highly effective at preventing OHSS in our patients, whilst still ensuring quality eggs and optimum endometrium conditions for successful embryo transfer, implantation and pregnancy.
Modified Natural Cycle IVF in Cheshire
We do offer a mild form of IVF known as Modified Natural Cycle IVF, which uses only very low doses of fertility drugs. It's only advised by our consultants in very specific circumstances however, such as if you are a poor-responder to conventional stimulated IVF or have a low AMH level (low numbers of eggs).
Through this treatment, our aim is to give you more than one quality egg to fertilise. But as you may only get one or two eggs, Modified Natural Cycle IVF has lower pregnancy rates than conventional IVF.
This means that you may need repeated cycles to have your baby, which needs to be taken into account if you're considering this option because of its lower costs due to lower drug requirements. We do offer a discounted Modified Natural Cycle IVF three-cycle package to increase your chances of a baby, if it's the right form of IVF for you.
Read more about Modified Natural Cycle IVF, and its advantages and disadvantages. Your consultant will advise if it's an option you can consider based on your diagnosis, the results of your initial fertility investigations and any previous history of IVF.
Natural Cycle IVF – why we don't offer it
Full Natural Cycle IVF is where no fertility drugs are used at all, relying solely on your own ovulation cycle, with the single egg you ovulate naturally collected for fertilisation. We do not offer or recommend Natural Cycle IVF as it has very high cancellation rates, due to failed egg retrieval or no embryo to transfer, making it ineffective for many patients.
Talk to us about your IVF options
If you'd like to know more about Modified Natural Cycle IVF at our private fertility clinic in Cheshire, or our approach to IVF and stimulated cycles, speak to our friendly Patient Advisors on 0161 300 2737 or self-refer for your appointment.
You can also come and meet us at this year's Fertility Show at Manchester Central (25-26 March). Our team will be there to help you with any enquiries you have about having a family with us, our Medical Director Dr David Polson is also guest speaker at the event. Book your tickets here.
Last updated: 18th December 2020