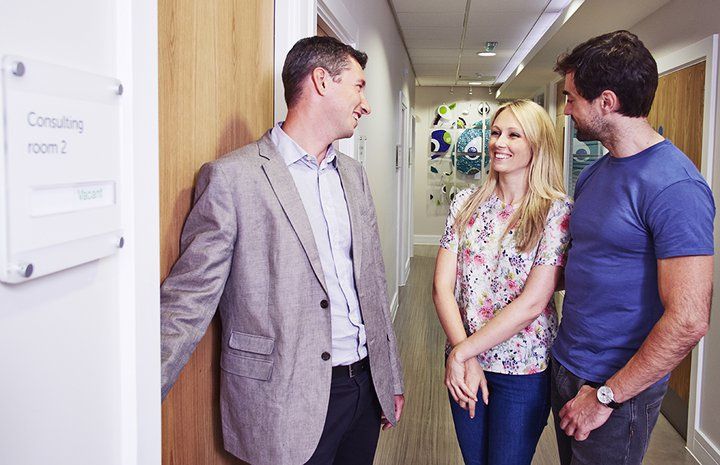 Counselling is a mandatory part of having treatment with donor sperm. But at Manchester Fertility we aren't only concerned with the general implications of using donor sperm to have a baby.
We care about the wellbeing of you and your new family way beyond the end of your treatment – and it's for this reason that we place such emphasis on the importance of telling your child about the fact that they are donor-conceived.
Our counsellors are here to support you now, to help you plan for your future. They will help you to consider when might be the best time for you to approach the topic with your child, and how to explain it in a way that your child can understand.
Giving your donor-conceived child all the facts about how they came to be born is especially important due to the law in the UK surrounding sperm donors and anonymity. Although anonymity is intact between donor and recipient, all sperm donors must agree to be identifiable to any child that is born using their sperm.
So even though you as the recipient will not know any identifying information about your sperm donor, your child has the right to apply to the Human Fertilisation and Embryology Authority (HFEA), which keeps records of all registered sperm donors, for his details when he or she turns 18 years old.
We believe it's important to tackle the topic of using a sperm donor, when the time is right for you and your children, with openness, honesty and great positivity.
There is nothing taboo or negative about using a sperm donor to have a baby. The fact is that you needed help, for whatever reason, to have a child. And that someone very special, selfless and generous made it possible.
And although you don't know your sperm donor, you do know all about them and their hobbies, likes, hair colour, even their wishes for the child they are helping to create - thanks to our detailed donor profiles.
Our counsellors will go through all of this with you during your counselling session. Remember you can see our counsellors at any time during your donor sperm treatment with us, whenever you and your partner - together or alone -  need impartial advice or just someone to talk to in confidence about any worries or concerns you have. They're a highly experienced yet friendly team, dedicated to guiding people through having a baby using donor sperm.
Counselling is part of our inclusive services at Manchester Fertility, to ensure your treatment with donor sperm is a positive experience not just now, but in years to come.
We look forward to helping you start your family together. If you'd like donor sperm treatment with us, you can contact our friendly team of Patient Advisors on 0161 300 2737 for an informal chat and to make an appointment.
In tomorrow's final blog in our series focused on treatment with donor sperm, we answer your FAQs.
Last updated: 4th May 2021