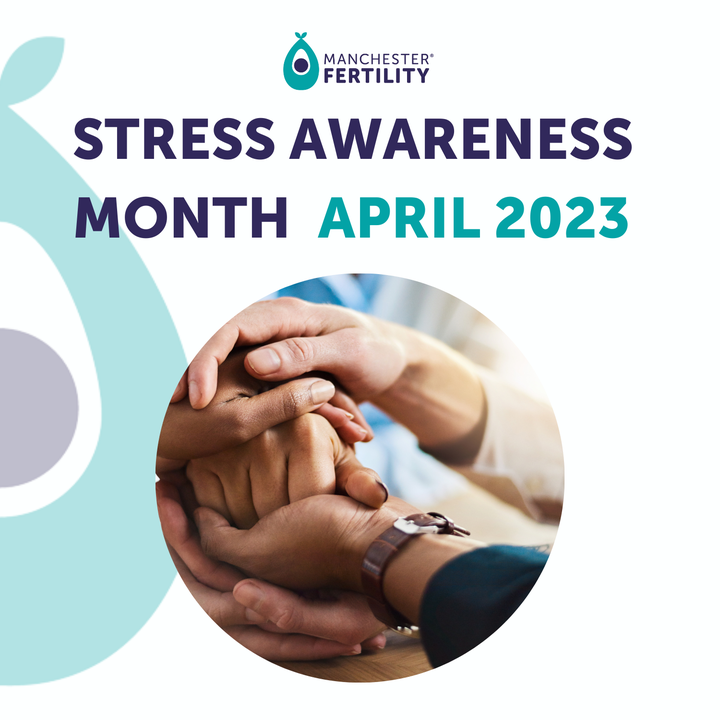 April is annual stress awareness month in the UK. So, we thought it would be an ideal opportunity to look at some of the ways we can help reduce stress during your fertility journey.
The precise relationship between stress and fertility is a topic of debate. Undoubtedly, fertility issues can be a cause of stress for many people, but what's less clear is whether stress itself contributes to fertility issues.
As one of the UK's leading fertility specialists, we understand the impact that stress and its many causes have on our patients. Whether it's worrying about if treatment will work, feeling guilty because of a fertility issue, or having concerns about finances, the fertility journey can be an emotional and stressful time for everyone involved.
The good news is that we are here to help. At our award-winning clinic, we've been creating families for over 35 years and are proud to have helped bring over 8,000 babies into the world.
Our expert, patient-focused approach to fertility care is trusted by patients from across the UK. We are committed to patient wellbeing and are renowned for the strong support network we provide throughout your fertility journey – and that includes managing and minimising stress.
Do Your Research
Before you consider fertility treatment, it's often helpful to learn more about the clinic, the treatments available, and the experts who will be supporting you. Our patient teams are here to help reduce stress and ensure you feel prepared, informed and comfortable in making those all-important decisions.
At Manchester Fertility, you can book a free 1-2-1 discovery appointment with one of our friendly New Patient Coordinators. They'll go through the treatment process with you, including the transparent costs and clinic tour. It's an ideal opportunity to discover if you have chosen the right clinic for you. Uncertainty often leads to stress, so the more you understand and feel comfortable with your decisions, the less uncertainty there will be.
Don't Be Embarrassed to Ask for Help
With over three decades of IVF expertise, we know and understand how you may be feeling and what you're going through. Our friendly, specialist team take the time to listen and will support you in any way that we can to ensure your time with us is as stress-free as possible.
Our Patient Advisors are experienced and knowledgeable about the IVF process and all our treatments. They can ensure you are fully informed and answer any questions you may have along the way. So, ask as many questions as you need to, our team is available by phone, email, and mobile app.
Make Use of Our Expert Team
It's normal to be anxious in the early days of your pregnancy, but you don't face these worries alone at Manchester Fertility. You'll have a fertility support midwife on hand to reassure you. She'll book you in for your first pregnancy scan at our clinic and offer dedicated support during and after your pregnancy scan, taking you through what happens next and answering any questions.  
Make the Most of Your Specialist Fertility Counselling
Counselling is an important part of your treatment and is included as part of your journey with us. Our highly experienced fertility counsellors are always here to listen impartially, with understanding and empathy and help put you at ease. All sessions are highly confidential and private.
Join Our Facebook Support Group
Talking to people who are also going through their own treatment process can provide reassurance and support to help you deal with stress. Many patients say our Facebook Support Group is a great comfort, connecting them with other patients who are on a similar fertility journey. The group provides online support, reassurance and advice and allows you to ask questions and share tips with other patients. It's all part of the patient-centred approach to care and wellbeing that has been our hallmark for over thirty years. Simply search 'Manchester Fertility Support Group' on Facebook to join our Manchester Fertility family.
Start Your Fertility Journey Today
Are you ready to have that initial first chat about fertility treatment? There's no obligation - just a caring, supportive team ready to help you learn more about the different treatment options and our clinic and answer any questions you may have to help you make the right decision for you.
Book your free non-medical 1-2-1 discovery appointment with our dedicated New Patient Coordinator Team, or you can call us on 0161 300 2730. We look forward to meeting you.
Last updated: 20th April 2023